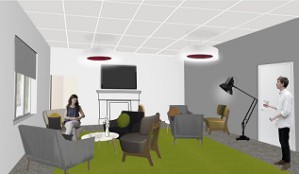 Warwick Conferences is set to renovate 13 meeting rooms at its Scarman training and conference centre on the outskirts of Coventry.
The £750,000 investment will commence this month and will include a refurbishment of the corridors, themed to bring the outside in, as well as all new signage, carpets and graphics around the venue.
In addition 13 of the venue's meeting and syndicate rooms will be refurbished to meet the current demand for more flexible, adaptable spaces.
As part of the refurbishment, a kitchen unit will be installed within one meeting room and one syndicate room, allowing for the informality of a 'kitchen table' discussion. These 'Let's do Lunch' spaces will allow clients to stay within one room if they choose, to both eat and meet in a relaxed environment to help foster creativity among delegates.
Two informal boardrooms will be created providing a lounge base with comfy sofas and armchairs allowing for a relaxed setting that moves away from the formality of a typical boardroom with a table and chairs set up.
A creative ideas space will also be introduced with casual seating such as beanbags for breakout sessions, workshops or networking.
The rest of the meeting rooms will be lightly refurbished with new carpets and paint to provide a more relaxed atmosphere throughout the entire venue.
Warwick Conferences is a leading conference venue located on the University of Warwick campus. There are four venues - Scarman, Radcliffe, Arden and Conference Park.
These will be joined in autumn 2016, by a £5.3million new exhibition and events venue with a 650 sq-mt flat floor accommodating up to 350 delegates. It will boast a lakefront location and will be adjacent to Scarman and Radcliffe.
Details: Details: http://www.warwickconferences.com/about-us/news-and-blogs/warwick-conferences-announces-renovation-project-scarman