In one of the many private rooms available to book in Birmingham Town Hall is a picture of a stage coach pulling up outside the front door back in Victorian times. It is one of a collection of fascinating pictures hanging in the Town Hall depicting its role in national and local events over the decades. Just outside the front door today space is already prepared for a tram stop when the extension of the still-to-open Birmingham tram system is extended from New Street Station up Broad Street. It is good to see the old Town Hall celebrating its past as well as looking forward to the future.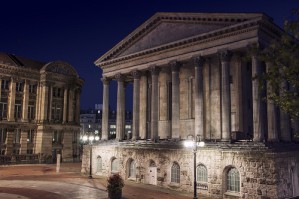 Birmingham Town Hall
was one of four central Birmingham venues we were being shown around. It was the oldest and to my mind the best, but I am biased. I have happy memories of attending pop concerts there in the past. Even though the Town Hall has undergone a £30million, eleven year refurbishment before finally reopening in 2007, the Grade I-listed building is largely unchanged. It now has a modern, stylish décor but it still retains its grandeur. It will seat up to 900 delegates for a conference (350 guests for a banquet) with the latest technology and plenty of breakout spaces.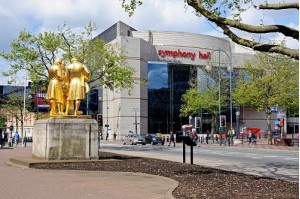 Symphony Hall
on the other hand is purpose-built and technically one of the finest concert halls and conference centres in the world. Symphony Hall is a close neighbour of the Town Hall and is the larger of the two venues seating up to 2000 delegates. Apparently there is sufficient business coming into Birmingham that the venues don't need to fight amongst themselves to attract it. Symphony Hall has just installed a flat floor option in the main concert hall which enables the venue to be used for dinners and banquets. It is a temporary removable wooden flooring system which fits over the tiered seating beneath. When we viewed the main auditorium it was set up for a dinner and it looked simply stunning. The fact that Symphony Hall has a covered walkway over Broad Street to the Hyatt Regency Hotel opposite makes it a very attractive proposition for major events.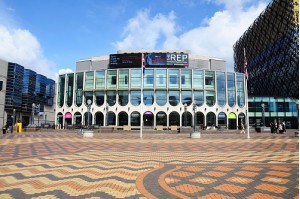 Birmingham Rep
was our third venue. The newly refurbished and extended Birmingham Repertory Theatre rubs shoulders with Symphony Hall on one side and the new Birmingham Library, to which it is linked, on the other side – useful when the Rep needs even more breakout space than it already has and poaches rooms from the Library. The main auditorium and studio theatre remain with the addition of a new flexible 300-seat theatre with state of the art facilities plus three modern flexible and fully equipped meeting rooms overlooking Centenary Square. The Rep works well for delegate numbers up 300 - especially if 'unusual and quirky' is on the menu.
All three venues have a full catering package from light refreshments to a full-blown banquet.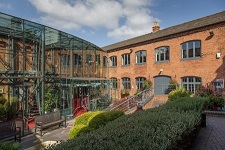 The fourth venue we visited was the smallest. It is tucked away behind Symphony Hall at the front and the newly renamed Barclaycard Indoor Arena at its rear. It was IET Austin Court and what it lacks in size is more than compensated by its style. The building was once a metal and nail merchants and whilst it has been fully restored it still retains its essential character with exposed brick walls and wooden beams, not to mention its direct access on to the Birmingham canal system at Brindleyplace. A new glass atrium has been added at the entrance enhancing the building which also benefits from a secluded courtyard garden. Austin Court boasts an excellent range of flexible meeting rooms all fully equipped with the latest IT infrastructure, which frankly you would expect from a venue operated by IET (Institution of Engineering and Technology).
In terms of access all four venues are within a few minutes walk of New Street Station. There are at least a dozen three and four star hotels within a short walking distance. Austin Court does benefit from having a limited number of parking spaces on site which are pre-bookable but there is a multi-storey car park which serves all four venues with very competitive rates for city centre parking. For those of you who consider driving in Birmingham city centre a 'white-knuckle' experience best avoided, be assured it is relatively easy to approach all four venues from the M6 without getting hopelessly lost.
Capacity and catering details can be found on all four venue websites.