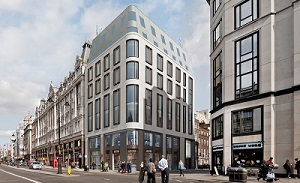 Apartment hotel operators are successfully targeting the 'millennial market' with brands that tout communal kitchens and shared workspaces - claims Hotels Mag.They are gaining new ground and proving to be less expensive than conventional business hotels.
The sheer number of new openings in the pipeline strengthens their argument.
'Operators are making a push in Europe, with 10,000 units in the pipeline', according to a July HVS report, 'with new players emerging.'
The United Kingdom and Germany will see almost three-quarters of the new properties.
Leading the way are Residence Inn, with 1,232 units opening through 2019, and Ireland's Staycity, with 1,166 units slated through 2020.
Staycity, which recently launched upscale Wilde Aparthotels, plan to more than triple their portfolio to 15,000 rooms by 2022 with a focus on Dublin, the U.K. and Germany. (picture: new Wilde Aparthotel by Staycity planned to open on the Strand in London autumn 2017).
Details: http://www.hotelsmag.com/Industry/News/Details/75544