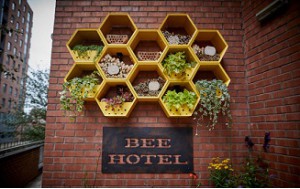 A new Bee Hotel has just opened in central Manchester.
The addition is part of a major £2.9 million refurbishment at Jurys Inn Manchester.
The 'Bee Happy Hotel' will help prevent the decline of Manchester's bee population. It is situated on the deck of Jurys Inn's new restaurant and will provide complimentary accommodation for both local and visiting bees during the winter hibernation season.
The canal side of the Jurys Inn deck is rich with local fauna and flora and should provide the perfect bed and breakfast base for the bees.
On the human side the refurbishment at Jurys Inn Manchester has resulted in stylish new bedrooms, an open plan new lobby with a connectivity area, a Costa coffee bar plus a new bar and restaurant, 'Oddsocks Bar & Kitchen'.
All 265 bedrooms have been revamped and are now furnished with a new DREAM bed by Jurys Inn, a 42 inch flatscreen TV with Freeview, hairdryer and complimentary toiletries.
There is free high speed wi-fi throughout the hotel.The new-look lobby at Jurys Inn Manchester now features space for informal meetings.
The hotel is also trialling self-check-in kiosks in reception.
The close proximity of bees will always attract the cliché – as Hotel General Manager, Steven Devine notes: "We have been busy bees in recent months…. with Manchester a hive of activity "
Details: https://www.jurysinns.com/