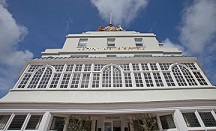 The Royal Wells Hotel in Tunbridge Wells has just reopened following a major £2.4 million refurbishment.
Key improvements undertaken during the four-month project have included the refurbishment of all bedrooms with four new rooms added. A new brasserie restaurant and a courtyard garden for al-fresco dining have been introduced and the events facilities have been extended.
The Royal Wells Hotel now has 27 bedrooms including suites, double and twin-bedded rooms, single rooms and family rooms.
There are three conference and meeting rooms: the ground floor Victoria Room will seat up to 30 delegates; the Ephraim Suite also on the ground floor will accommodate up to 150 guests when combined with the adjoining Victoria Room. The Alexandra Room on the first floor will accommodate up to 60 guests.
The Royal Wells Hotel boasts a hilltop location in Mount Ephraim overlooking Royal Tunbridge Wells. It is easily accessible from the M25 at junction 5 and a short walk from Tunbridge Wells Station.
Details: www.royalwells.co.uk