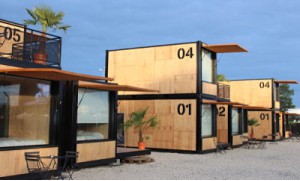 Accor Hotels group has judged its pilot mobile accommodation concept a success.
This follows trials of the group's 'Flying Nest' concept at various cultural, sporting and artistic events throughout France.
The Flying Nest accommodation uses converted marine containers, ensuring quick and easy transportation and assembly of the modules.
The mobile guestrooms offer a functional and pleasant experience. Each unit is decked out with all the comforts of a modern hotel room including a private bathroom, air-conditioned living area and wi-fi connection. The units include a patio and large windows.
Accor's Flying Nest concept is now set to launch providing temporary accommodation needs where hotel capacity is at saturation point.
So far Flying Nest has flown no further than France but we await its arrival in the UK.
Details:http://press.accorhotels.group/accorhotels-launches-a-new-ephemeral-and-mobile-accommodation-concept/