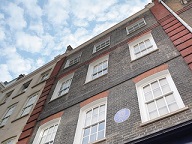 The London home of Jimi Hendrix has just opened as a visitor attraction.
Back in the late 1960s Jimi Hendrix lived in a top floor flat at 25 Brook Street in Mayfair, central London. It was only a small flat but the building already had a musical heritage. It was the home of George Frederic Handel, the famous composer who had lived there 240 years before.
Handel House Museum has been open to the public for a number of years. Now the museum has been renamed: 'Handel & Hendrix in London'.
It has been a two year project to restore the Jimi Hendrix bedroom to what it was when he lived there in 1969. His main living room has also been restored to how it would have been when Jimi Hendrix was in residence.
The museum offers an insight into the domestic life of the American superstar. Jimi Hendrix moved in on 1st July 1968 shortly before the release of his Electric Ladyland album. The house was the scene of many hours of writing and visits by fellow musicians, not to mention many jamming sessions with fellow musicians.
The new exhibition includes the Epiphone FT79 acoustic guitar which Hendrix used for everything he composed in this country.
Jimi Hendrix was well aware of its connection with Handel. George Frederic Handel lived and worked there for 36 years. He wrote many of his greatest works there including The Messiah. He died in his second floor bedroom in 1759.
Handel & Hendrix in London has been designed so that visitors can choose the rooms of the musician they are most interested in – or they can take in the whole building.
Handel & Hendrix in London can host a variety of events in the building during the evening from a champagne and canapés reception for up to 40 guests to tours of the historic rooms and use of the in-house AV.

Details: www.handelhendrix.org