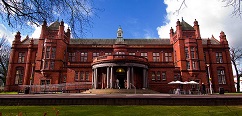 Whitworth Art Gallery will reopen in Manchester on 14th February 2015 following completion of a £15million redevelopment project by MUMA (McInnes Usher McKnight Architects), which has transformed as well as doubled the size of the 125-year-old Whitworth.
The new Whitworth is fully integrated into its Whitworth Park home. It incorporates an art garden, sculpture terrace and orchard garden, alongside a new landscape gallery.
Various spaces at the Whitworth will be available to hire for private events including the Jacobean-style Grand Hall which now features a double height ceiling. Details of bespoke hire packages will be released soon.
The Whitworth is a 20-30 minute walk from Manchester city centre. It is close to Manchester Museum and the University of Manchester campus of which it is a part.
Details: www.whitworth.manchester.ac.uk