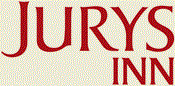 Jurys Inns has joined forces with disability charity, Scope, as its corporate charity partner for the next two years.
During the course of the partnership, Jurys Inn and Scope will work together to change attitudes towards disability and help ensure all disabled people have equality and fairness.
Jurys Inn will hold fundraising events at all of its hotels to engage and inspire its employees and customers to raise funds for the charity and awareness in the community.
The partnership will focus on raising awareness of the barriers disabled people face to entering fulfilling employment, such as negative attitudes towards disability in the workplace.
In addition to its partnership with Scope, Jurys Inn will be working with Capability Scotland, Rehab Group (Ireland) and The Cedar Foundation (Northern Ireland) to ensure that it is making a positive difference in all the communities it serves.
All money raised by Jurys Inn and its customers will be distributed between the four charities.