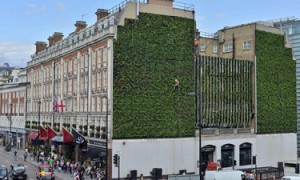 Two London hotels feature in a showcase of the best vertical gardens or 'living walls' in London - produced by Living Green City. They are
Athenaeum Hotel – Piccadilly:
Installed in 2009, the Athenaeum's living wall begins at street level and reaches all the way to the 10th floor penthouse. It provides a subtle nod to the verdant splendour of Green Park just across the road, as well as being an important haven of biodiversity for London.
The Rubens at the Palace Hotel – Victoria (pictured above) :
The living wall at the Rubens Hotel is one of the largest in London, standing at 350 square metres and with a total of 10,000 herbaceous plants.
It is designed to provide waves of blossoming plants throughout the year. It provides a wildlife habitat and helps keep the hotel cooler in summer and warm in winter. It is also a major talking point.
A living wall uses technology which allows plants to grow vertically with an irrigation system.
The first living walls in public settings were installed in 2008 and are becoming increasingly popular, particularly in urban environments. This is due to their innovative use of previously unused spaces, design flexibility and environmental benefits - which include improved air quality and reduced pollution.
Article: http://www.itv.com/news/london/2016-10-12/how-london-is-embracing-the-vertical-garden-or-living-wall/