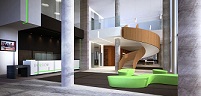 First impressions: INNSIDE Manchester is a bright, open, spacious hotel with massive windows, loads of natural daylight and a muted décor. For me INNSIDE Manchester ticks all the boxes.
INNSIDE Manchester is located on Manchester's First Street development just off Whitworth Street between Oxford Road and Deansgate stations. It sits alongside HOME, the new theatre, cinema and exhibition space and overlooks a small pedestrian square.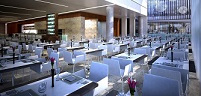 All the action takes place on the ground floor of the hotel. It is an open plan area which includes reception, a lounge, a restaurant and bar. A subtle change of lighting every day changes the mood.

This is the first hotel I have visited which has a DJ playing at breakfast on a couple of mornings during the week. The playlist, I was assured, is designed for early morning listening rather than late night action.

The meeting rooms are self-contained and private on the first floor. There are five rooms in total. Two combine to form the main Chadwick Suite; seating up to 220 delegates theatre style. All the rooms have loads of natural daylight plus blackout facilities, high ceilings, the latest technology in-built and free wi-fi throughout. There is a refreshment area on the same floor which can also be used for mini-exhibitions. The hotel fitness room, sauna and steam rooms are also on the first floor.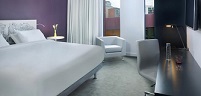 The bedrooms are stylish with a clean no-nonsense décor, plenty of daylight, furnished with everything you would expect to find in a four-star hotel bedroom - and easy-to-use with light switches where you would expect to find them. There are no hidden plug sockets behind the furniture - in fact they are on the side of the bed's headboard.
The bedrooms are open-plan with wet room/bathroom combined. (INNSIDE is a brand developed in Germany for the German market and then imported and 'fine-tuned' for the UK market by Melia. Hence the showers in the UK will have frosted glass as opposed to the plain glass of the German model – in case you are sharing a room with someone you don't know too well). Now you wouldn't have known that if we hadn't visited and asked searching questions.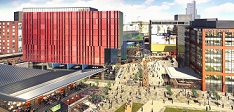 Greater internal security appears to have risen up the list of requirements in new-build hotels. A key card is required to operate the lifts at INNSIDE Manchester.
INNSIDE Manchester will need to 'hit the floor running'. It faces formidably strong competition in the centre of Manchester with at least a dozen good standard hotels within a ten minute walk. It has made a good start and we wish it well.

Details: www.melia.com