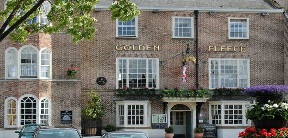 The Golden Fleece Hotel in Thirsk is set to reopen this week following a 12–week, £1million refurbishment. Its doors reopen on 19th May 2017 at 9.00am.
The Golden Fleece is a 26 bedroom hotel and restaurant on Thirsk's cobbled market place in North Yorkshire.
All the bedrooms at The Golden Fleece have been refurbished and fitted with new bathrooms.
The ground floor and public areas have been redesigned and refurbished with the creation of a new Eatery & Coffee House area plus a new outside dining and decking area complete with a pizza oven.
The Golden Fleece Hotel is part of The Coaching Inn Group, which operates 13 hotels in Yorkshire, Leicester, Lincolnshire, Northampton, Gloucestershire and Wales.
Details: http://www.goldenfleecehotel.com/