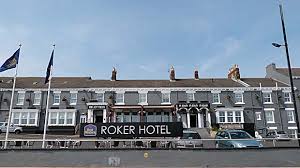 Best Western Roker Hotel in Sunderland has completed the final phase of its three-year- long £1million refurbishment.
All 43 bedrooms at the Roker Hotel have been redesigned to combine a contemporary styling with nautical features inspired by the area's seafaring heritage.
The bedroom stock at the Best Western Roker Hotel include 12 superior rooms all with uninterrupted sea views each featuring a telescope to admire the view.
These rooms are named after the botanicals used to create the range of bespoke gins – including juniper, cinnamon, cassia and rose.
Other features include stacked luggage chests, rope curtain tiebacks and doorknobs and a navy and neutral colour scheme reflecting the hotel's beachfront position.
Meeting space at Best Western Roker Hotel includes the main Six Soldiers Suite accommodating up to 350 guests with the Dobson Lounge alongside for smaller meetings.
Best Western Roker Hotel is located in Roker Terrace, a few miles from the centre of Sunderland and with good access to the A19.
Details: http://rokerhotel.co.uk