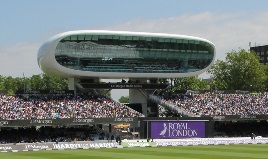 Marylebone Cricket Club, owner of Lord's Cricket Ground in London has unveiled plans for a £4million refurbishment of the venue's futuristic J.P. Morgan Media Centre. Refurbishment work on the pod-style building will take place over the course of the next two winters and will be ready in time for the 2017 season.
When refurbishment work is complete the Media Centre, which opened in 1999, will have ten permanent TV and radio broadcast boxes and an increased writers' area. The existing bar will be relocated to a larger facility serving the dining area.
Currently the J P Morgan Media Centre will seat up to 50 guests for a lunch or dinner.
The £4million media centre project is part of a larger, £200million redevelopment of Lord's which is set to finish with the reconstruction of the Compton and Edrich Stands in 2027.
Details: www.lords.org