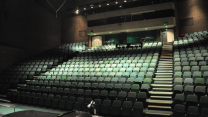 A £7.1million refurbishment of the Royal Northern College of Music's auditorium in Manchester is approaching completion. An official reopening is scheduled for November 2014.
Developments at the Royal Northern College of Music have resulted in a refurbished and extended hall, adding a cantilevered balcony to increase capacity to 750 people; alongside new dressing rooms, showers, formal learning spaces and backstage facilities. The refurbishment has also seen the installation of advanced technical facilities and a new air-conditioning and heating system.
The finishing touches to the auditorium, including seating and lighting, will be fitted over the next two weeks.
The Royal College of Music is located in Oxford Road one mile south of Manchester city centre, in the heart of the city's Education Quarter.

Details: www.rncm.ac.uk