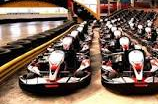 A new Go Kart track is set to be built at the Manchester Arena close to Victoria Station in the centre of Manchester. Planning approval has been granted for the new £1.5million karting facility which will be operated by TeamSport.
The track will be located in the basement area of the arena which has largely remained unused since the arena was built in 1995.
A multilevel, 550m state-of-the-art race track is planned for up to 16 karters at any one time navigating their way through 15 bends at speeds of up to 40mph.
TeamSport Karting Manchester will include private conference facilities for corporate clients as well as a licensed Fuel Bar for drinks and food.
TeamSport Karting Manchester is scheduled to open later this year.