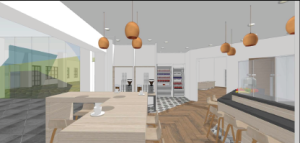 Work is about to start on the first phase of a complete refurbishment of the Woodland Event Centre at Wyboston Lakes.
A £3million plus investment will encompass a comprehensive interior refit to modernise and upgrade the facilities.
The refurbishment will Increase the capacity of the main conference suite, whilst incorporating the latest in design and IT.
The Rosewood Conference Suite will become a flexible space hosting conferences for up to 400 delegates -with new moveable walls capable of dividing the suite into three smaller, separate spaces.
The breakout areas will have a completely new look and will have access to the adjacent Cedar and Rosewood courtyards.
A new reception area will lead directly into Paddy & Scotts Coffee Bar.
The new Woodland Event Centre will feature a contemporary Scandinavian style of furnishings and design.
Wyboston Lakes Resort is located on a 380-acre site between Cambridge and Milton Keynes.
Details: http://www.wybostonlakes.co.uk/