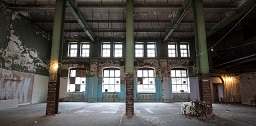 The London Road Fire Station in Manchester city centre has been a controversial building for many years. It was owned by Britannia Hotels until last year. They had plans to convert it into a luxury hotel – but those plans never materialised.
New owners, Allied London, are consulting widely about the future of this Grade II-listed building. The majority view favours a mixture of uses – including a hotel, signature and all-day restaurants, workspace, apartments, visitor attractions, live music venues, cinema, museums and galleries.
Allied London begin external and internal renovation work towards the end of the year. In the meantime they have released previously unseen internal images of the fire-station.
London Road Fire Station overlooks Piccadilly station in the centre of Manchester and is surrounded on all sides by a range of budget through to four star hotels.