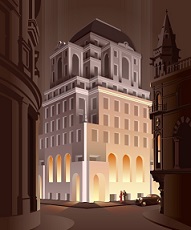 I thought that Hotel Gotham which opens this April in Manchester was named after Gotham City, better known as the home of Batman. My memory is vague but the Edwin Lutyens designed building in central Manchester does looked similar to the fictional Gotham City Hall from the Batman comic strip - but no. Gotham City apparently is the name of New York 'by night' and derives from the 1920's when Manhattan night life was renowned for its exuberance as well as its gangsters.

Bespoke Hotels have taken the former Midland Bank headquarters in King Street, Manchester, kept and enhanced the wonderful art—deco style of the building and added the influences of New York in the 1920's minus the gangs. It opens 9th April 2015 and it promises to bring a different style of hotel to central Manchester.

Site visits were outlawed the day I visited because a delicate part of the building's restructure was taking place and it was deemed too dangerous - so I viewed it from the comfort of a restaurant across the road.

First Hotel Gotham in numbers: Hotel Gotham is aiming for five-star status. It will have 60 bedrooms in six room categories spread over seven floors with reception on the sixth floor and a prohibition-style bar and members' club on the seventh. The bedroom stock includes six junior suites and five inner sanctum rooms - inner sanctum will be rooms without windows but with a decor to more than compensate plus with their own internal gardens.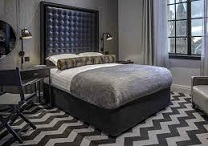 The bedrooms will all have king beds. Take your cotton thread counter with you when you visit - I am told the reading for the sheets and towels will be off the scale. Room extras will include a hangover kit, an intimacy kit (don't ask), a mobile charger kit. Rooms are shower-only but they will be top of the range monsoon-style showers.

At reception you will discover little touches which 'set the scene' such as a martini tray on an upended 1920's trunk, bell-boys in period outfits and special 'Hotel Gotham umbrellas' for residents' use. In the restaurant breakfast will be cooked to order - no self-service buffet style eating at Hotel Gotham. There will be a restaurant and the former bank boardroom will be available for private dining and for small private gatherings. There will be no conference and banqueting suites and no leisure facilities.


Hotel Gotham will concentrate on offering a five star deluxe hotel experience with the emphasis on comfort and style. Their 'afternoon tea', I was assured, will be the talk of the city. After all, Hotel Gotham will be rubbing shoulders with boutiques in Manchester's most upmarket shopping district including: Hermès, Whistles, Emporio Armani, Agent Provocateur and Mulberry. It is also right at the heart of corporate and financial Manchester.

There are no parking facilities at the hotel although valet parking can be pre-booked. Hotel Gotham is just a five minute walk from Manchester Piccadilly station or a short taxi ride.

Hotel Gotham doesn't officially open until 7th April 2015 yet it is already attracting a great deal international coverage possibly as a result of its well-publicised desire to be the 'sexiest hotel in Europe'. It will certainly be a unique hotel and will further enhance the reputation of Manchester as a must-visit destination. I will be back when it opens.

Details: www.bespokehotels.com