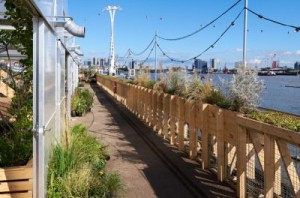 A two minute walk down river from the O2 Arena in London will bring you to Farmopolis – a floating garden on the Jetty at Greenwich Peninsula which is now home to thousands of plants from the RHS Chelsea Flower show.
Farmopolis has only been open for a few weeks. It aims to be a major new urban farming destination in London – a micro-city of experiential production, a pioneering new model for public green space bringing together farming, food, arts and culture.
Farmopolis, however, is more than a floating garden. It also incorporates a bar, restaurant and events space. The café/restaurant at Farmopolis is open seven days a week until 9.30 in the evening. Farmopolis is licensed for 500 guests standing. The seating area for an event will comfortably accommodate up to 50 delegates.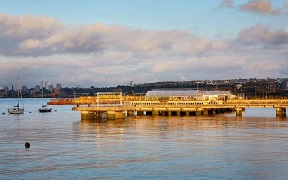 The events space plays host to a year-round programme of live music, experiential supper clubs, literary salons, immersive theatre, creative workshops and talks. It is also available for private hire, for day meetings, an end-of-conference get together, for ideas workshops and for brain-storming sessions.
It is the sheer accessibility of Farmopolis which is one of its major strengths. It is a five-minute walk from North Greenwich tube station on the Jubilee line. Delegates can take the Thames Clipper River Boat to North Greenwich Pier – less than five minutes away.
The Emirates Air Line will transport delegates in spectacular fashion across the Thames from ExCeL London convention centre and the hotels and the conference venues which surround it.
For those who have an academic and ecological interest in the variety of gents' urinals to be found in public places – then take a trip to Farmopolis. The urinals are waterless saving up to 100,000 litres of water annually. Furthermore, Farmopolis has a Compost Toilet Workshop – worth a trip in itself to view that.
Details: http://www.farmopolis.com/