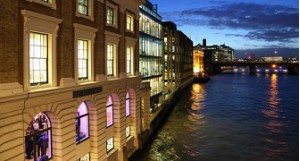 Glaziers Hall, the Grade II-listed venue on the south bank of the River Thames overlooking London Bridge has officially reopened following its £2.5million refurbishment.
The renovations have increased the floorspace at Glaziers Hall by 33%, adding two riverside rooms with views across the Thames plus a new basement level.
New facilities include The Bridge Room, directly overlooking the River Thames with loads of natural daylight and seating up to 70 delegates for a theatre style meeting.
The Thames Room, also with loads of natural daylight provides syndicate / breakout space.
London Bridge Arches are part of the main London Bridge structure. They comprise three original Georgian brick arches with a private entrance, foyer and independent bathrooms.
London Bridge Arches can be hired exclusively from the rest of the facilities at Glaziers Hall.London Bridge Arches offer space for dinners, wine tastings, temporary exhibitions and lectures.
By the end of 2017, a bespoke wine cellar will also be opening in the basement which should prove an attraction for wine tasting events and parties.
Overall Glaziers Hall will accommodate up to 650 guests. It is located within minutes of London Bridge Station and Borough Market.