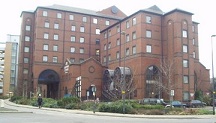 Crowne Plaza Leeds located in the centre of Leeds has just reopened following a £1million refurbishment resulting from damage caused by flooding on Boxing Day.
The flood water destroyed the hotel car parks, storage facilities and vital infrastructure that kept the hotel running.
1,600 sq-ft of carpet has been replaced as well as the hotel's entire IT, telephone, electrical and heating systems - including the boilers and generators. The cellar and store rooms also had to be fully refurbished.
Crowne Plaza's 135 bedrooms, seven meeting rooms, its restaurant and leisure centre also had to be deep-cleaned.
Over the past two months, the Crowne Plaza Leeds 80-strong workforce has been redeployed to other hotels across the country, with a core group held on site to man the hotel and greet any pre-booked guests who were unaware of the hotel's forced closure.

Details: www.cpleedshotel.co.uk