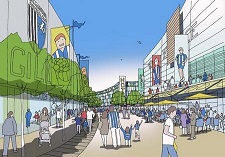 Gillingham Football Club has published plans for a new stadium which will be more than double the size of its existing Priestfield stadium. It will accommodate up to 24,000 spectators and will be one of the biggest stadiums in League One. The proposed 40 acre site for the new stadium is at Mill Hill about a mile from the existing ground.

It will be opposite the University of Kent's Centre for Sports Studies, the club's training facilities and directly next to the Medway Dragons Rugby Club who would also use the facilities.
Other components include a hotel, a health club, a tennis academy and 300 homes.
Plans have been submitted to Medway Council.
Details: www.kentonline.co.uk