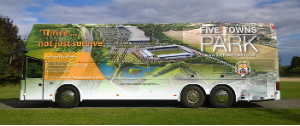 Plans have been submitted for the £135million Five Towns Park development in Castleford. The development includes a 10,000-capacity stadium for Castleford Tigers Rugby League FC plus around 570,000 sq. ft. of retail space together with a 50-acre country park.
No conference and banqueting details planned in the new stadium have been published but we will 'watch this space' and report accordingly.
Subject to securing planning approval, contractors could be on site summer 2015 with completion of the project in 2017.
Details:
www.fivetownspark.co.uk