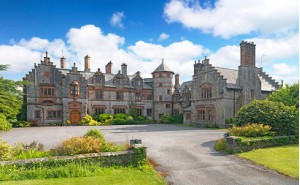 Property developer, Northern Powerhouse Developments specialise in the construction and refurbishment of property within the hotel and leisure sector.
The group has bought a range of smaller hotel, predominantly in the north of England and Wales.
They are now about to launch a collection of ten hotels under the Whisper Hotels banner.
The hotels will be split into four categories: Manor Collection, Premier Collection, Boutique Collection and Classic Collection
The Manor Collection includes:
Caer Rhun Hall in Conwy in North Wales. It is currently undergoing a major refurbishment.(pictured)
The Classic Collection includes:
Imperial Crown Hotel in Halifax, Esplanade Hotel in Scarborough, Gilsland Hall Hotel in Brampton, Cumbria, Fishguard Bay Hotel in Pembrokeshire, Fourcroft Hotel in Tenby, Queens Hotel in Llandudno.
The Boutique Collection includes:
The Belmont in Llandudno.
The Premier Collection includes:
Llandudno Bay Hotel in Llandudno, Old Golf House Hotel in Huddersfield.
Details: http://www.gianthospitality.com/