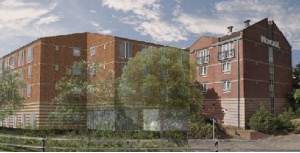 Plans have been published for a major extension at Novotel Wolverhampton.
A 59-bedroom extension is planned at Novotel Wolverhampton in a new four-storey structure built over a courtyard at the hotel.
The extension would also include an extension of the hotel restaurant.
Novotel Wolverhampton currently has 132 bedrooms.
A final decision is expected from Wolverhampton City Council planning department in the coming months.
Details: https://www.accorhotels.com/gb/hotel-1188-novotel-wolverhampton/index.shtml