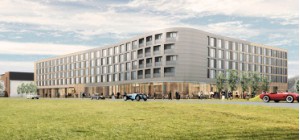 Plans have been published for a new hotel and apartment complex in Bicester in Oxfordshire.
The new five storey hotel is planned on the former RAF Bicester site. The air-base site is currently derelict.
Subject to planning approval, the new hotel would be located next to a 1936 C-Type hangar and share the same 56,000 sq-ft footprint.
The hotel would have 252 bedrooms. The ground floor would include a restaurant and bar plus leisure facilities including a swimming pool. The hotel would also have conference and events facilities.
A fifth-level atrium would showcase automotive-themed exhibitions and displays.
Other facilities planned at the former RAF site include a private recreational driving circuit as well as a 77-acre country park.
The project is still at the planning stage.