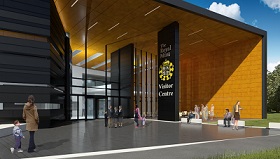 For the first time in its 1,000 year history, the Royal Mint is to open its doors to the general public. Construction of a purpose-built Royal Mint Visitor Centre at its headquarters in Llantrisant in South Wales is expected to start spring 2014 with completion during 2015.
The £7.7million Royal Mint Visitor Centre will provide a look behind the high-security doors of The Royal Mint – Britain's oldest manufacturer. Visitors will have the opportunity to take a tour of The Royal Mint to see just how the coins they use every day are made. On top of that a range of static and interactive exhibitions in the new Visitor Centre will add to an experience topped off by the chance to strike your very own coin.
The Royal Mint was opened on a purpose-built site in Llantrisant by Her Majesty The Queen in 1968, following 157 years it had previously spent at Tower Hill in London. It will be a perfect way to finish of a meeting.
Details: www.royalmint.com