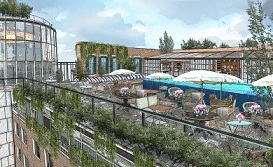 Hotel and private club operator, Soho House, is to open a hotel in the former BBC Television Centre at White City in west London. Soho House has been selected by the property developer Stanhope to design and operate part of the redevelopment scheme which will provide a 47-bedroom hotel with a roof terrace, swimming pool and restaurant.
A planning application is to be submitted at the end of next month incorporating the new hotel layout. If everything goes to plan construction work is expected to start on site in spring 2015.
The development will also include offices, new BBC studio space, leisure facilities and 950 new homes.