Plans have been submitted for the £135million Five Towns Park development in Castleford. The development includes a 10,000-capacity stadium for Castleford Tigers Rugby League FC plus around 570,000 sq. ft. of retail space together with a 50-acre country park.
No conference and banqueting details planned in the new stadium have been published but we will 'watch this space' and report accordingly.
Subject to securing planning approval, contractors could be on site summer 2015 with completion of the project in 2017.
Details:
www.fivetownspark.co.uk
Details

Published: 08 September 2014
Hits: 1168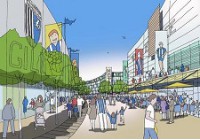 Gillingham Football Club has published plans for a new stadium which will be more than double the size of its existing Priestfield stadium. It will accommodate up to 24,000 spectators and will be one of the biggest stadiums in League One. The proposed 40 acre site for the new stadium is at Mill Hill about a mile from the existing ground.
It will be opposite the University of Kent's Centre for Sports Studies, the club's training facilities and directly next to the Medway Dragons Rugby Club who would also use the facilities.
Other components include a hotel, a health club, a tennis academy and 300 homes.
Plans have been submitted to Medway Council.
Details: www.kentonline.co.uk
Details

Published: 08 September 2014
Hits: 1022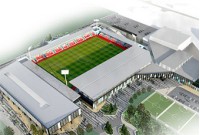 Construction work is expected to start in May 2015 on the new York Community Stadium which will provide a joint future home for both York City Football Club and the York City Knights Rugby League Club. The 8,000-seat stadium will be located in the Monks Cross area of the city alongside a major retail park.
Facilities will also include a swimming pool, gym and artificial football pitches as well as providing extensive conference, meeting and banqueting space. The stadium should be complete by late 2016.
Details:
www.yorkcommunitystadium.co.uk
Details

Published: 08 September 2014
Hits: 1032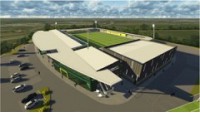 Non-league football club Boston United have gained initial approval from the local council for a £100million mixed-use project, which will includes a new 5,000-seat community stadium plus an all-weather 3G pitch for community use as well as conference and banqueting facilities.
Boston United hope the new stadium will be completed in time to move from its current ground for the start of the 2017/18 football season.
Details:
www.thequadrantboston.co.uk
Details

Published: 08 September 2014
Hits: 1085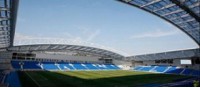 A recent survey by Advanced Ticketing, the ticketing management company, has found that 59% of respondents who bought tickets for a rugby match would be interested in an accommodation package as well.
An even higher percentage, 74% of fans, would prefer to buy their tickets and packages online.
The concept of adding hotel accommodation to an entry ticket is something that no sports club in the UK is currently doing. Yet Choice Locations offer an accommodation booking service for all sporting venues and not just for the sporting event itself. If a stadium is hosting a conference, exhibition, banquet, awards dinner or even a wedding, Choice Locations will negotiate the most competitive accommodation rates at local hotels and arrange an on-line booking facility to include full details of the venue, their facilities and how to find it.
Details

Published: 01 April 2014
Hits: 799