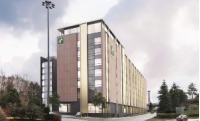 Plans for two new hotels to be built at Manchester Airport have been approved.
The two hotels will be located adjacent to Terminal 2 at Manchester Airport.
They will form part of the £180million hotel district outlined in the Airport City Manchester masterplan.
The hotels, both seven-storey buildings, will be a new Holiday Inn with 280 bedrooms and a new Ibis Budget with 262 bedrooms.
Construction is expected to start in early 2019 with completion scheduled for Spring 2021.
Details

Published: 02 August 2018
Hits: 3350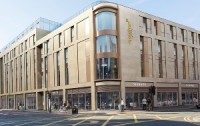 Dublin-based Dalata Hotels Group is planning to open a Maldron-branded hotel in Glasgow.
Maldron Hotel Glasgow will open with 250-bedrooms. It will be centrally located on Renfrew Street.
An opening is anticipated in the second half of 2020.
Dalata currently operates seven hotels in the UK with two in London and others in Cardiff, Leeds, Birmingham, Belfast and Manchester Airport. A further two are under construction in Belfast City and Newcastle on Tyne.
Details: https://www.maldronhotels.com/
Details

Published: 21 December 2017
Hits: 3708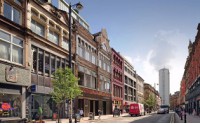 Yet another new hotel is planned in central Manchester.
Owners of Manchester's Dry Bar have submitted a plan to convert their Oldham Street venue into a 101-bedroom boutique hotel.
The Dry Bar is a well-known Manchester landmark in the city's Northern Quarter. It was owned by Factory Records and has been an influential part of Manchester's leisure scene since it first opened at the height of the 'Madchester movement' in the late 1980's.
The ground and basement floors of the building would be reconfigured probably with a new bar replacing the Dry Bar. The existing roof space would be turned into a fifth floor and capped with a new three-storey rooftop extension. The 101 bedrooms would be housed across the upper floors.
No dates have been set yet by Manchester planners to discuss the project.
Details

Published: 22 November 2017
Hits: 3289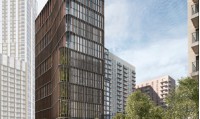 Contractors have just started preparation work on site to build a new hotel and aparthotel at the Gantry development in London.
The development will include a new 18-storey Curio by Hilton hotel with 285 bedrooms plus a 17-storey Adagio aparthotel with 136 rooms.
The lower levels of the building will be occupied by new bars and restaurants with a new sky-bar on the 18thfloor.
The Gantry development is one component of the Stratford City Masterplan.
The Gantry will be constructed on a vacant plot next to Stratford International Station, between the Queen Elizabeth Olympic Park, Westfield shopping centre and East Village.
Construction is expected to start on site early 2018. The project is scheduled for completion in early 2020.
Details: http://www.constructionenquirer.com/2017/12/12/ardmore-wins-77m-stratford-hotel-contract/
Details

Published: 13 December 2017
Hits: 3596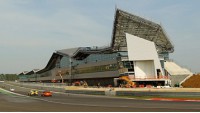 Proposals to build a hotel at Silverstone have been approved by South Northamptonshire Council.
A 300-bedroom hotel could now feature at the entrance to the motor-racing circuit.
The overall scheme will also include a 'brand centre' to support motorsport activities, student accommodation and leisure facilities.
The project is masterminded by the British Racing Drivers' Club.
Details: http://www.silverstone.co.uk
Details

Published: 11 September 2017
Hits: 2243