Industry news for the Hotel and Conference business
Welcome to our website for the savvy hotel and conference professionals. We provide business news, newsletters, extensive reference material, and free to enter competitions. Venuebooking offers insights to the industry from a new perspective to keep you in touch of the world out there.
Mercure Leeds Centre opens September

Indigo coming to Chester

Dalata plan new Manchester Hotel

Dalata plan new London Hotel

New Hotel opens in Glasgow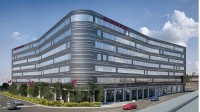 The Arora Hotels Group are set to open two new hotels at London Heathrow Airport in October 2018.
A two-year construction period is now almost complete on the new dual-branded property: Crowne Plaza London – Heathrow Terminal 4 (pictured) and Holiday Inn Express London – Heathrow Terminal 4.
The two hotels will have a total of 761 bedrooms.
Both hotels are a three-minute walk to the main Terminal 4 building. Both hotels will have direct access to the London Underground, Heathrow Express train service and the nearby motorway network.
Crowne Plaza London ‒Heathrow T4 will have 304 bedrooms, three food and beverage outlets a fitness centre plus an extensive range of meeting and events facilities.
Holiday Inn Express London ‒Heathrow T4 will have 457 bedrooms plus an Express Bar and Café.
Both hotels will share around 100 parking spaces.
Crowne Plaza London – Heathrow Terminal 4, and Holiday Inn Express London – Heathrow Terminal 4 will be operated by the Arora Hotels group.
The two hotels will join the group's extensive airport hotel portfolio, which includes the Sofitel London Heathrow Terminal 5 and Renaissance London Heathrow in Bath Road.
Arora Group will also be operating the new Hilton Garden Inn London Heathrow Airport which is expected to open in early 2019.
Details

Published: 19 August 2018
Hits: 578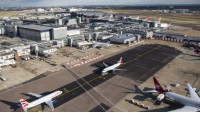 An Indian-base hospitality company has just announced plans to open a new hotel at Heathrow Airport in London – Vivanta Hotel.
The company, The Indian Hotels Company Limited (IHCL), is India's largest hospitality company.
The new Vivanta Hotel is set to open in 2021 with 108 bedrooms, an all-day restaurant, a Bombay Brasserie, leisure facilities including a gym plus meeting, events and banqueting facilities.
Vivanta Hotel will be located on a greenfield site across from Terminals 1, 2 and 3 at Heathrow Airport.
Vivanta Hotel will be the third London Hotel in the Indian Hotels Company Limited's portfolio.
The group already operates St. James' Court hotel, A Taj Hotel and Taj 51 Buckingham Gate Suites and Residences close to Buckingham Palace in London.
Details: https://vivanta.tajhotels.com/
Details

Published: 19 August 2018
Hits: 610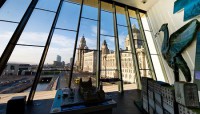 National Museums Liverpool is set to launch its rebranded events business.
It will be offering corporate and private venue hire at a number of Liverpool venues including the Merseyside Maritime Museum, the Walker Art Gallery and the World Museum, where the Terracotta Warriors exhibition is currently on show.
The venues are all fully equipped with the latest meeting technology including Integrated AV and a widescreen and projector. Wi-fi is available throughout all the venues.
The individual venues include:
Museum of Liverpool seating up to 168 delegates theatre style (pictured above)
Walker Art Gallery seating up to 70 delegates theatre style
The World Museum seating up to 350 delegates theatre style
Merseyside Maritime Museum seating up to 200 delegates theatre style.
Other venues are also available for dinners and drinks receptions.
Head of events Katie Roberts said: "Each of our venues is so different to the next – from modern meeting rooms to historic galleries – meaning we can offer personalised options to all of our clients, allowing them to create something that feels truly bespoke to them."
Details: http://www.liverpoolmuseums.org.uk/venue-hire/conferences.aspx
Details

Published: 03 August 2018
Hits: 588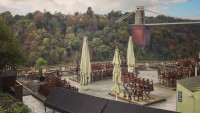 Avon Gorge by Hotel du Vin opens 24th August in Bristol.
The 78 bedroom former Avon Gorge Hotel has just completed a multi-million pound total makeover as well as a change of name.
Avon Gorge by Hotel du Vin features the new 'Goram & Vincent' restaurant with panoramic views of the Clifton Suspension Bridge. The name is taken from folklore which claims two giants named Goram and Vincent are supposed to have created the Avon Gorge.
Avon Gorge by Hotel du Vin also features a number of previously hidden existing architectural features including a marble staircase, stained glass windows and the original Turkish Baths. The Turkish Baths are now home to an extensive wine cellar.
Avon Gorge by Hotel du Vin has three meeting rooms: Aquam Bibe 1 with natural daylight and facing the Gorge - seating 70 delegates theatre style. The larger Aquam Bibe 2 will accommodate up to 100 delegates theatre style. Both rooms have natural daylight and face the Avon Gorge. The smallest room is the Brunel Suite also with natural daylight, seating up to 40 delegates theatre style. All three are equipped with the latest meeting technolgy plus free wi-fi.
Avon Gorge by Hotel du Vin is located on Sion Hill in Clifton, Bristol.
Details: https://www.hotelduvin.com/locations/bristol-avon-gorge/
Details

Published: 19 August 2018
Hits: 535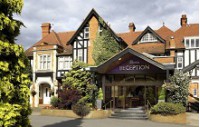 RBH Hotels, one of the UK's leading independent hotel management company is giving previous guests the chance to come clean and return items they've 'borrowed' from hotel rooms over the years.
The 'souvenir amnesty' will take place throughout the summer, with light fingered patrons being encouraged to hand in their ill-gotten gains.
For every 'souvenir' returned to participating hotels, RBH, which manages over 70 branded and private hotels across the UK, will donate £1 to a worthwhile cause. These include Make-A-Wish UK and NSPCC.
According to RBH Hotels the top five most commonly pinched items are towels, pens, mugs, teaspoons and remote controls.
The hotel group estimates that thousands of towels along with tens of thousands of teaspoons and pens are taken each year.
More esoteric items stolen from hotels include light bulbs, beer taps, DJ lighting, potted plants, a bejewelled Christmas Reindeer statue and a life sized display mannequin.
Guests who have items to return can drop them off at reception during August at the following hotels:
QHotels Forest Pines Hotel & Golf Resort, near Scunthorpe, Lincolnshire
QHotels Ashford International Hotel, Ashford, Kent
QHotels The Queens Hotel in the centre of Leeds
QHotels Tankersley Manor between Barnsley and Sheffield in South Yorkshire
QHotels Chesford Grange in Kenilworth in Warwickshire (pictured above)
DoubleTree by Hilton Edinburgh City Centre
Details: https://www.rbhmanagement.com/
Details

Published: 03 August 2018
Hits: 582