Industry news for the Hotel and Conference business
Welcome to our website for the savvy hotel and conference professionals. We provide business news, newsletters, extensive reference material, and free to enter competitions. Venuebooking offers insights to the industry from a new perspective to keep you in touch of the world out there.
Mercure Leeds Centre opens September

Indigo coming to Chester

Dalata plan new Manchester Hotel

Dalata plan new London Hotel

New Hotel opens in Glasgow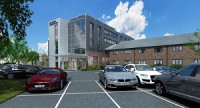 An autumn 2018 opening is planned for the new Hilton Garden Inn Abingdon Oxford.
The hotel will replace the former Oxford Abingdon Hotel which has remained open throughout the redevelopment work.
A complete redevelopment has taken place at Hilton Garden Inn Abingdon Oxford with the addition of a new four-storey extension doubling the number of bedrooms to 150.
The extension also includes a new lounge bar, restaurant, meeting and events rooms plus a fitness centre.
Hilton Garden Inn Abingdon Oxford is located in Marsham Road, Abingdon just south of Oxford and a short drive from the A34 with extensive on-site complimentary car parking.
Details: http://newsroom.hilton.com/hgi/property/9334?tl=ar
Details

Published: 27 July 2018
Hits: 603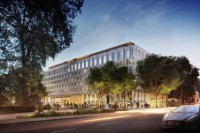 Civil engineering and preliminary building work is set to start shortly converting the former US Embassy building in Grosvenor Square in London into a luxury hotel.
Two contractors are currently bidding for the main conversion project.
When complete the new Rosewood Hotel will have 137 bedrooms, five restaurants and five shops. It will also feature a spa and a ballroom with space for 1,000 guests in the building's three basement levels.
The external façade of the Grade II-listed building will be retained but much of the rest of the building will be demolished down to the basement. Completion is not expected before 2023.
Details

Published: 27 July 2018
Hits: 551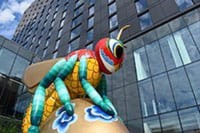 The dual-branded Crowne Plaza and Staybridge Suites Manchester - Oxford Road, set to open this September, will feature a full colour super-size 1.8m bee sculpture named 'Beejing' to welcome guests at the entrance to the 19-storey hotel development.
'Beejing' is just one of over one hundred giant worker bee sculptures, each decorated with its own unique design, which will be winging their way to Manchester from 23 July to 23 September 2018 when Manchester lands 'Bee in the City' - one of its biggest and most spectacular public art events.
Organised by global public art producer Wild in Art in partnership with Manchester City Council, the 'Bee in the City' trail will live in locations across the city and beyond for nine weeks, providing unmissable and free entertainment for Mancunians and visitors to enjoy, whilst taking in the city's landmarks, cultural gems and local area.
Meanwhile just up the road from the new Crowne Plaza and Staybridge Suites Manchester - Oxford Road is Jurys Inn Manchester.
Jurys Inn Manchester is looking after the well-being of the city's bee population with its 'Bee Happy Hotel' situated on the deck of it's Oddsocks Bar and Kitchen.
Details: https://beeinthecitymcr.co.uk/bees-take-flight-at-mayfield/
Details

Published: 26 July 2018
Hits: 608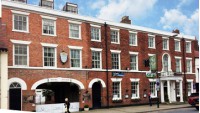 A former 17th century coaching inn in Beverley, East Yorkshire, has just reopened as a boutique hotel following completion of a two-year-long £6million restoration project.
The Beverley Arms is now part of Thwaites Hotels. It features 38 modern, fully-equipped bedrooms, a 68-seater restaurant, two private dining/meeting rooms, a bar and courtyard.
The Beverley Arms is located in North Bar Within in the centre of Beverley.
Beverley, voted one of the best places to live in the UK, is the 'capital' of East Yorkshire and located between York and Hull.
Details: https://www.thwaites.co.uk/news-and-awards/beverley-preview/
Details

Published: 27 July 2018
Hits: 582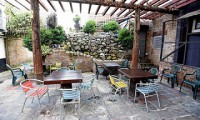 The Sandon pub, birthplace of Liverpool Football Club back in 1892 and firm favourite of the fans ever since, is set to open 19 new hotel rooms.
The Sandon already features five different function and events suites in addition to its various bars.
The Sandon is aiming to open its new rooms by November 2018.
The Sandon is located in Oakfield Road, within penalty-kicking distance of Liverpool FC's Anfield stadium and close to the centre of Liverpool.
Details: https://www.thesandon.com/
Details

Published: 26 July 2018
Hits: 569