Industry news for the Hotel and Conference business
Welcome to our website for the savvy hotel and conference professionals. We provide business news, newsletters, extensive reference material, and free to enter competitions. Venuebooking offers insights to the industry from a new perspective to keep you in touch of the world out there.
Mercure Leeds Centre opens September

Indigo coming to Chester

Dalata plan new Manchester Hotel

Dalata plan new London Hotel

New Hotel opens in Glasgow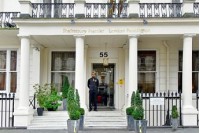 The Montcalm Hotel Group has just launched The Chilworth London Paddington hotel in central London.
The hotel, formerly the Shaftesbury Premier London Paddington,has undergone a major refurbishment prior to its rebranding.
The Chilworth is a boutique townhouse hotel, the first for the The Montcalm Hotel Group.
The Chilworth is set in a refurbished Georgian townhouse with 124 contemporary-styled bedrooms plus a restaurant and bar.
The Chilworth features an urban spa with a jacuzzi, gym, steam room and an extensive range of treatments as well as a yoga suite and outdoor yoga classes in nearby Hyde Park.
The Chilworth is located in Westbourne Terrace a few minutes from Paddington station and Hyde Park.
Details: https://www.thechilworth.co.uk/
Details

Published: 17 July 2018
Hits: 645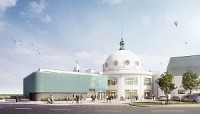 Spanish City reopens in Whitley Bay in North Tyneside at the end of this month following completion of a £10milion refurbishment programme.
Spanish City first opened in 1910 on the north east coast resort as a concert hall, restaurant, roof garden and tearoom.
A ballroom was added in 1920. However, in recent years it had fallen into disrepair and has been closed for the last eighteen years.
Now a Grade II-listed building the new-look Spanish City will include a range of new leisure facilities including a fine dining restaurant, tearooms, events space and a champagne bar.
Events space in Spanish City will include the St Mary's Lighthouse Suite.
St Mary's Lighthouse Suite will link directly to both the mezzanine level of the dome and the Champagne Bar and will have views across the bay to the lighthouse itself. It will feature floor to ceiling windows and skylights.
St Mary's Lighthouse Suite will accommodate up to 200 guests.
Alongside a main room, the Champagne Bar and surrounding balcony can be used as break out space and internal sliding walls ensure full flexibility.
Spanish City will have ample parking facilities, specialist AV equipment and access to wi-fi.
Details: https://www.spanishcity.co.uk/
Details

Published: 17 July 2018
Hits: 573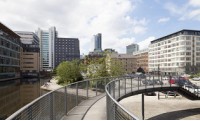 Toyoko, the Japanese hotel group has revealed plans for its first UK hotel.
It is set to open in Manchester city centre.
The site at 12-16 Piccadilly will see the construction of a 22-storey hotel with around 350 bedrooms. The building will be integrated with a sensitive refurbishment of the adjacent Grade II-listed Union Bank Building.
The hotel will be branded a Toyoko Inn described by the group as 'stylish yet affordable business hotels' located close to railway stations.
Toyoko hotels do not include restaurants, although they do include a breakfast room.
The group has recently opened two hotels in Europe, in Frankfurt and Marseille.
Details: https://www.toyoko-inn.com/eng/
Details

Published: 16 July 2018
Hits: 618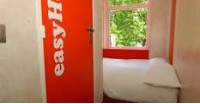 The easyHotel group has completed the acquisition of a site in Milton Keynes.
Planning permission for a new 124-bedroom easyHotel has now been granted and conversion works on the site, which forms part of Norfolk House in Silbury Boulevard, have started.
An opening for easyHotel Milton Keynes is scheduled for 2019.
Meanwhile, further north easyHotels has completed the acquisition of a site in Chester.
easyHotel Chester is currently under development. It will be a seven-storey building with 109 bedrooms located in Forest Street in the centre of Chester
easyHotel Chester is expected to open in 2019.
Details: https://www.easyhotel.com/
Details

Published: 16 July 2018
Hits: 599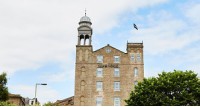 A two-hundred-year-old former jute mill located between the waterfront and central Dundee has just opened as the 102-bedroom Hotel Indigo Dundee.
Hotel Indigo Dundee has three bedroom designs, all inspired by Dundee's past and present and feature the original vaulted brickwork ceilings. They are:
The Dundee Cake room brings in discreet marmalade motifs throughout the room with jute curtains.
The Comic room is inspired by DC Thompson, the publishing house best known for Desperate Dan in the Beano.
The Gaming room reflects Dundee's prominence in the computer games industry and as the birth place of Grand Theft Auto.
'Daisy Tasker' is the restaurant and bar at Hotel Indigo Dundee. It offers traditional Scottish dishes. It is named in honour of a local weaver who organised activities for the jute mill workers.
Hotel Indigo Dundee also has a fully equipped gym and one meeting room seating up to 30 delegates.
Hotel Indigo Dundee is located in Lower Dens Mill Constable Street in Dundee.
Dundee is the UK's first UNESCO City of Design and will be home to the soon to open V&A Dundee.
Details: https://www.ihg.com/hotelindigo/hotels/gb/en/dundee/dndid/hoteldetail
Details

Published: 16 July 2018
Hits: 547