Industry news for the Hotel and Conference business
Welcome to our website for the savvy hotel and conference professionals. We provide business news, newsletters, extensive reference material, and free to enter competitions. Venuebooking offers insights to the industry from a new perspective to keep you in touch of the world out there.
Mercure Leeds Centre opens September

Indigo coming to Chester

Dalata plan new Manchester Hotel

Dalata plan new London Hotel

New Hotel opens in Glasgow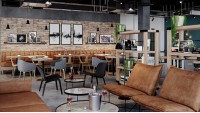 An autumn 2018 opening is planned for The East London Hotel in Bethnal Green.
The East London Hotel will have 161 bedrooms and will openon a site previously occupied by Balls Brothers wine merchants.
The East London Hotel will reflect the modern urban style of its east London location with a restaurant and bar highlighting the local food and drink suppliers.
Bedrooms will be furnished with all the latest in-room comforts and technology including super-fast wi-fi, in-room 43inch 4k televisions and an online check-in.
The East London Hotel is the first hospitality venture from the property investment and development company, Definition Capital.
The East London Hotel is situated in Cambridge Heath Road in the heart of Bethnal Green, opposite the Victoria & Albert Childhood Museum. Tube and Overground stations are on the doorstep with central London a fifteen minute journey away.
Details

Published: 12 July 2018
Hits: 590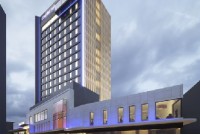 Planning approval has been granted for a new hotel in Newport, South Wales.

The proposed redevelopment of Chartist Tower, Newport's tallest building, will create a new hotel, offices and retail units.

The hotel will be a 164-bedroom Mercure Hotel. The 'Chartist' connection will be included in the hotel name and the meeting rooms will reflect Newport's role in the Chartist movement.

The hotel is scheduled to be completed in time to coincide with the opening of the new ICC Wales (International Convention Centre) in summer 2019.

Details: https://www.insidermedia.com/insider/wales/planning-approval-for-chartist-tower-redevelopment
Details

Published: 12 July 2018
Hits: 562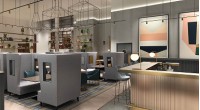 Crowne Plaza London –The City has just re-launched the newly refurbished City Lounge as a meeting point.
The £800K refurbishment project has increased the capacity of the lounge. City Lounge will now seat up to 62 guests for a meeting or an informal dinner.
The Crowne Plaza London - The City is located in the City of London, on the corner of New Bridge Street and Victoria Embankment. Crowne Plaza London –The City is on the north side of the River Thames adjacent to Blackfriars underground station.
Details: http://www.cplondoncityhotel.co.uk/
Details

Published: 09 July 2018
Hits: 573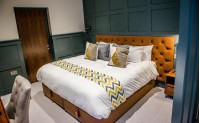 Gainsborough Golf Club in Lincolnshire has just opened a new eight-bedroom boutique hotel.
The hotel has been built as an extension to the clubhouse.
Gainsborough Golf Club already has extensive clubhouse facilities, including a café, restaurant, business meeting rooms and a sports lounge.
Each hotel bedroom can be set up as a double or a twin room. All bedrooms are en-suite and include a shower, heating/ air conditioning, TV, towels, complimentary wi-fi and tea and coffee making facilities.
Also available in each room is an ironing board and iron plus a hairdryer.
The new bedrooms are available for club members, people attending events at the club and for people travelling to, or through, the Gainsborough area on business.
Details: https://www.gainsboroughgc.co.uk/
Details

Published: 09 July 2018
Hits: 579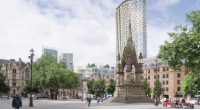 The controversial St Michael's development off Deansgate in central Manchester has been given the go-ahead.
The £200m mixed-use redevelopment project is spearheaded by ex-Manchester United footballers turned property developers, Gary Neville and Ryan Giggs.
St Michael's development will include a 216 bedroom five-star hotel as well as apartment units in what will be a 39-storey building.
The development will also include an outdoor rooftop terrace –and a boutique hotel in the former Bootle Street police station.
St Michael's development has been a decade in its incubation so far. No time scale for its completion and opening has been published yet.
Details

Published: 06 July 2018
Hits: 511