Industry news for the Hotel and Conference business
Welcome to our website for the savvy hotel and conference professionals. We provide business news, newsletters, extensive reference material, and free to enter competitions. Venuebooking offers insights to the industry from a new perspective to keep you in touch of the world out there.
Mercure Leeds Centre opens September

Indigo coming to Chester

Dalata plan new Manchester Hotel

Dalata plan new London Hotel

New Hotel opens in Glasgow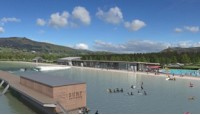 Surf Snowdonia Adventure Parc is planning to open a new four-star, 106-bedroom hotel at the Adventure Parc.
Surf Snowdonia Adventure Parc opened at Dolgarrog in summer 2015. It features a 300-metre surf lagoon.
The new hotel would be built alongside the existing surf lagoon. It would also feature a zip line running across the lagoon linking the hotel to the existing site facilities. It will also feature events space, a spa, and an indoor adventure centre.
Surf Snowdonia is aiming to start building on site in autumn this year, subject to planning consent - with an opening planned in 2020.
Details: https://www.surfsnowdonia.com/
Details

Published: 06 July 2018
Hits: 534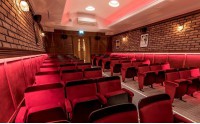 The Grubstreet Author is a new events space which has just opened in London.
TheGrubstreet Author has been created by and is operated by The Brewery – one of London's leading events venues.
The Grubstreet Author is located on what was once the notorious Grubstreet, which is now Milton Street in the heart of Moorgate. It is an area renowned for bohemian writers and industrial print houses which has provided the design inspirations for The Grubstreet Author.
The Grubstreet Author has three striking and distinctive events spaces:
The Cutting Room (pictured) is a 48-seater fully working cinema auditorium. It features a 98" screen with 7.1 surround sound and immersive LED lighting.
The Pasteur Room is a meeting room which will seat up to 65 delegates theatre style. It is named after the French chemist Louis Pasteur who visited the site of the Grubstreet Author in 1871 to investigate the problems of beer fermentation.
The Sample Room will seat up to 50 guests for a lunch or dinner. The Sample Room was an area made for invention where the latest alcoholic creations were tried and tested.
All three rooms are air-conditioned with wi-fi connectivity.
The Grubstreet Author can be used for conferences, events, exhibitions, team-building, banqueting and awards ceremonies.
The Grubstreet Author is located close to the City of London and Old Street with easy access to Liverpool Street, Moorgate and Barbican stations.
Details: https://grubstreetauthor.co.uk/
Details

Published: 06 July 2018
Hits: 659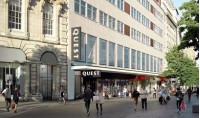 Australian-based Quest Apartment Hotels group has started work developing its first UK site.
Quest Liverpool City Centre will be located in Church Street in the centre of Liverpool adjacent to the Liverpool ONE complex.
Quest Liverpool City Centre will take over a 1980's office building and create apartments on the second, third and fourth floors. An additional fifth and sixth level are also planned.
In total Quest Liverpool City Centre will have 100 serviced apartments, a conference room and a gym.
Completion of Quest Liverpool City Centre is expected summer 2019.
Quest Apartment Hotels was established nearly 30 years ago in Melbourne and has developed a 160 strong Quest Apartment Hotel portfolio.
Quest aims to open 8-10 apartment hotels across the UK by 2023.
Details: https://www.questapartments.com.au/
Details

Published: 04 July 2018
Hits: 556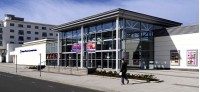 The Floral Hall in Southport together with the Ramada Hotel Southport and the Genting Casino have just joined forces to create a new combined events and conference destination - Waterfront Southport.
All three venues comprising Waterfront Southport are located alongside each other overlooking Southport's Marine Lake.
Waterfront Southport can now offer 133 four-star standard bedrooms plus one of the largest integrated conference centres in the North West with the ballroom, auditorium and theatre of the Floral Hall plus the casino.
Conference and events facilities at Waterfront Southport include the latest addition – the Waterfront Suite - seating up to 700 delegates theatre style and the Lakeside Suite seating 160 delegates.
The Southport Theatre will seat up to 700 delegates and the Floral Hall Ballroom will accommodate up to 500 guests for a banquet. These are supported by a range of smaller, well-equipped meeting rooms and boardrooms, all with natural daylight and impressive views over the town and waterfront.
Waterfront Southport is located on the Promenade a short walk from Southport station.
Details – www.waterfrontsouthport.co.uk
Details

Published: 05 July 2018
Hits: 572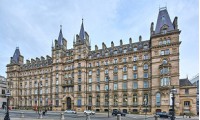 Plans have been submitted to convert a landmark Grade II-listed building in Liverpool into a hotel.
The building was formerly the North Western Hotel. It is located next to Liverpool Lime Street Station and opposite St George's Hall.
The North Western Hotel opened in 1871 and is constructed in stone with a slate roof in the Renaissance Revival style, resembling a French château.
The railway hotel closed back in 1933 and the building has been used as office accommodation and as student accommodation ever since.
A proposed £30million refurbishment project would totally transform the building. A 202-bedroom hotel with a bar and restaurant facilities, gym and meeting spaces is planned.
An international operator has also been lined up to operate the new hotel which has an expected opening date of 2020.
Details

Published: 04 July 2018
Hits: 509