Industry news for the Hotel and Conference business
Welcome to our website for the savvy hotel and conference professionals. We provide business news, newsletters, extensive reference material, and free to enter competitions. Venuebooking offers insights to the industry from a new perspective to keep you in touch of the world out there.
Mercure Leeds Centre opens September

Indigo coming to Chester

Dalata plan new Manchester Hotel

Dalata plan new London Hotel

New Hotel opens in Glasgow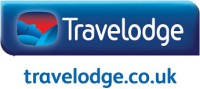 Travelodge has launched a new budget hotel format called Travelodge Plus.
Travelodge Plus is designed to meet the needs of the budget traveller who wants that little bit more style and choice - offering 'more style and choice' than the standard Travelodge
Travelodge Plus hotels will feature premium SuperRooms as well as a new bar-café concept allowing guest to work and relax outside their rooms plus counter seating with built-in USB points and dining benches.
A £10million budget has been earmarked to upgrade existing Travelodge properties including the Travelodge's largest new build hotel, the 395-bedroom London City hotel, which is due to open in two weeks time.
Other Travelodge properties earmarked for an upgrade include: Brighton Seafront, Edinburgh Central, London Gatwick Airport, London Waterloo and York Micklegate hotels.
Travelodge announced plans at the start of the year for twenty new hotels across the UK.
Details: https://www.travelodge.co.uk/
Details

Published: 03 July 2018
Hits: 87

InterContinental Hotels Group (IHG) has confirmed that its acquisition of a 51% stake in Regent Hotels & Resorts ('Regent') is now complete.
IHG will now bring Regent into its brand portfolio at the top end of the luxury segment and will accelerate its growth globally.
IHG intend to grow the brand from six hotels today to over 40 hotels in key global gateway city and resort locations over the long term.
Details: https://www.ihgplc.com/news-and-media/news-releases/2018/ihg-completes-acquisition-of-stake-in-regent-hotels-and-resorts
Details

Published: 03 July 2018
Hits: 94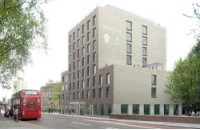 The new Roomzzz London Stratford hotel opened on 1st July 2018.
Roomzzz London Stratford features five styles of self-catering apartments from 'Neo' Studios through to the top-of-the-range 'Dezign' Studio. Each is equipped withking size beds, a kitchen with a fridge freezer, microwave oven and a hob, an ensuite bathroom with a walk-in shower.
The studios also include a desk, a smart TV and high-speed wi-fi
Roomzzz London Stratford includes a Grab-And-Go Breakfast, a coffee shop and co-working space plus an in-house Fitness Studio.
Roomzzz London Stratford offers secure parking spaces located under the aparthotelwith electric charging points in all the parking bays.
Roomzzz London Stratford is around a 15-minute walk from both Stratford Underground station and Stratford DLR station. It is less than 20 minutes from Stratford International for a high-speed train to London St. Pancras in just six minutes.
Details: https://www.roomzzz.com/london-stratford/
Details

Published: 02 July 2018
Hits: 88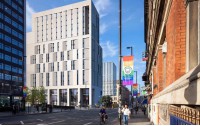 Plans have just been approved for a new 17-storey hotel in the centre of Manchester.
The new hotel is set to be built at 55 Portland Street currently the site of a 50-year-old office block on the corner of Sackville Street which is due to be demolished.
The new hotel will be operated by Dalata Hotel Group under its Clayton Hotel brand. It will have 329 bedrooms plus a ground-floor bar with restaurant at mezzanine level, as well as a business centre with meeting rooms.
The hotel will be the second Clayton-branded property in Manchester. It will join its sister hotel - Clayton Hotel Manchester Airport.
Details: https://www.claytonhotels.com/
Details

Published: 03 July 2018
Hits: 85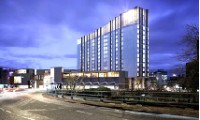 Park Regis Birmingham hotel has just opened its new top floor suite of conference and events facilities.
The 5,250 sq-ft of space is located on the 16thfloor. It features panoramic views across city centre Birmingham
The space previously housed a restaurant.
The new events space includes the 'Sky Loft', accommodating up to 100 guests and the 'Sky Gallery' with a capacity of up to 300 delegates.
The 15th floor - where the hotel's main conference facilities were previously sited provides additional meeting rooms and break-out space.
Park Regis Birmingham can now accommodate up 450 delegates over both floors.
Park Regis Birmingham is located alongside the Five Ways traffic island, a short walk along Broad Street from central Birmingham and the entertainment and business areas around Broad Street and Brindleyplace.
Details: https://www.parkregisbirmingham.co.uk/
Details

Published: 28 June 2018
Hits: 93