Industry news for the Hotel and Conference business
Welcome to our website for the savvy hotel and conference professionals. We provide business news, newsletters, extensive reference material, and free to enter competitions. Venuebooking offers insights to the industry from a new perspective to keep you in touch of the world out there.
Mercure Leeds Centre opens September

Indigo coming to Chester

Dalata plan new Manchester Hotel

Dalata plan new London Hotel

New Hotel opens in Glasgow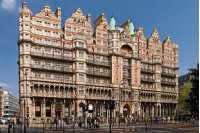 The IHG group now claim to be the leading luxury hotel operator in the UK. This follows an announcement of the locations of its new-to-the-UK boutique brand, Kimpton Hotels, and its recently launched voco Hotels.
Kimpton Hotels & Restaurants
IHG will launch its luxury boutique brand Kimpton Hotels & Restaurants in the UK in London, Manchester, Edinburgh and Glasgow. The Kimpton hotels will each be located in prime UK city-centre locations as follows:
London:The recently refurbished Principal London in Russell Square, Bloomsbury is set to rebrand as a Kimpton Hotel later this year (picture)
Manchester:The Principal Manchester, also recently refurbished, is set to open as a Kimpton Hotel in 2019. The Principal Manchester occupies the corner of Oxford Street and Whitworth Street in the city centre.
Edinburgh:The Principal Edinburgh Charlotte Square is set to become a Kimpton Hotel next year. In addition, Principal Edinburgh George Street will be re-branded as an InterContinental by late next year.
Glasgow: The Principal Blythswood Square Hotel, home of the former Royal Scottish Automobile Association, will be rebranded as a Kimpton Hotel in 2019.
voco Hotels
The recently launched voco Hotels will be making its UK debut in Cardiff. Overlooking Cardiff Bay, The Principal St. David's Hotel will take the voco branding later this year. It is expected that further voco hotels will be coming to the UK soon.
Finally, Leeds will see the opening of a new Hotel Indigo in 2020. The hotel, currently the Principal Met Leeds Hotel, will be redesigned along 'Indigo-lines' with a décor featuring the history and stories from the local area.
Details: https://www.ihgplc.com/en/news-and-media/news-releases/2018/ihg-becomes-uks-leading-luxury-hotel-operator
Details

Published: 26 July 2018
Hits: 632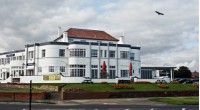 The Montagu Park Hotel Tynemouth on Tyneside is currently undergoing a £3million total transformation.
The work should be completed later this summer.
Montagu Park Hotel has 55 extensively refurbished bedrooms as well as a new restaurant.
Montagu Park Hotel is a classic Art-Deco building dating from the 1930's. The design and décor of the new-look bedrooms pays homage to the hotel's Art Deco roots. Most of the rooms also boast a sea view.
The Salt Cove is the restaurant at Montagu Park Hotel.
Montagu Park Hotel has six meeting and conference rooms each equipped with the latest audio-visual systems, a choice of projector screens, free wi-fi and free parking for up to 200 cars.
The largest suite - the Large Ballroom will seat up to 1600 delegates theatre style.
Montagu Park Hotel is located in Tynemouth on the north-east coast with easy access to Newcastle City Centre, Newcastle International Airport and the North Shields Ferry Terminal.
Details: http://www.parkhoteltynemouth.co.uk/index.php
Details

Published: 24 July 2018
Hits: 617
Permission has been granted to build a new 104-bedroom hotel in the centre of Stoke-on-Trent.
Plans for the hotel outline a six-storey building with a bar and restaurant, 64 parking spaces plus flexible space for businesses or an apart-hotel on the top floor.
The new hotel will be on Clementsons Mill car park in Clough Street in Stoke on Trent.
No operators have been appointed yet but the developers are in discussion with potential ones.
Meanwhile construction work has just started on a new 140-bedroom Hilton Garden Inn in Stoke-on-Trent (pictured).
Hilton Garden Inn Stoke-on-Trent forms part of the new Smithfield scheme a £20million development in the centre of Stoke on Trent.
Hilton Garden Inn Stoke-on-Trent is scheduled to be completed in late 2019. It will include a gym, restaurant and bar plus extensive meeting and events facilities.
Details

Published: 24 July 2018
Hits: 565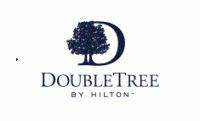 QHotel group is rebranding five of its hotels this autumn. They are as follows:
The Stratford Hotel in Arden Street, Stratford on Avon becomes the DoubleTree by Hilton Stratford Upon Avon on 21st August.
Westerwood Hotel and Spa becomes the DoubleTree by Hilton Glasgow Westerwood Spa & Golf Resort on 28th August.
The Cambridge Belfry becomes DoubleTree by Hilton Cambridge Belfry on 4th September.
Forest Pines Hotel and Golf Resort becomes DoubleTree by Hilton Broughton Forest Pines Spa & Golf Resort on 23rd October.
The Oxford Belfry becomes the DoubleTree by Hilton Oxford Belfry on 27th November.
All five hotels will offer the DoubleTree by Hilton brand-standards including the complimentary warm Doubletree cookie on check-in.
Details: http://doubletree3.hilton.com/en/index.html
Details

Published: 24 July 2018
Hits: 593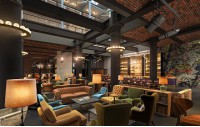 The former Place Aparthotel in the centre of Manchester is currently undergoing a total overhaul instigated by the building's new owners.
It will emerge as London Warehouse, a hotel with 166 bedrooms
London Warehouse will feature a flower shop, a fitness studio, a café, coworking offices, a mini cinema, a barber-shop plus a bar, fine dining restaurant and reception area all located on the ground floor.
Designers of London Warehouse's ground floor have drawn inspiration from buildings such as The Ned Hotel in London which has nine restaurants and bars all located within a restored ground floor former banking hall.
London Warehouse hotel, café and restaurant are scheduled to open in November 2018 with a January 2019 opening scheduled for the fitness studio and cinema.
London Warehouse is housed in a Grade II-listed building which was built in 1867. It islocated in Ducie Street on the edge of Manchester's Northern Quarter and a five minute walk from Manchester Piccadilly station.
Details: http://london-warehouse.co.uk/
Details

Published: 23 July 2018
Hits: 649