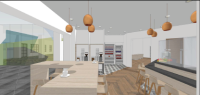 Work is about to start on the first phase of a complete refurbishment of the Woodland Event Centre at Wyboston Lakes.
A £3million plus investment will encompass a comprehensive interior refit to modernise and upgrade the facilities.
The refurbishment will Increase the capacity of the main conference suite, whilst incorporating the latest in design and IT.
The Rosewood Conference Suite will become a flexible space hosting conferences for up to 400 delegates -with new moveable walls capable of dividing the suite into three smaller, separate spaces.
The breakout areas will have a completely new look and will have access to the adjacent Cedar and Rosewood courtyards.
A new reception area will lead directly into Paddy & Scotts Coffee Bar.
The new Woodland Event Centre will feature a contemporary Scandinavian style of furnishings and design.
Wyboston Lakes Resort is located on a 380-acre site between Cambridge and Milton Keynes.
Details: http://www.wybostonlakes.co.uk/
Details

Published: 12 June 2018
Hits: 4058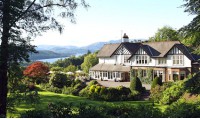 Linthwaite House Hotel in Windermere in the Lake District has reopened following completion of a £10 million, twelve-month-long refurbishment programme.
Linthwaite House now has 30 newly renovated bedrooms plus a new bar and an extended conservatory.
Six new suites with floor to ceiling windows have been created and they will open this autumn.
Linthwaite House was built as a five-bedroom family house at the turn of the twentieth century. It was converted into a hotel in 1969.
Linthwaite House is now part of the Leeu Collection, a luxury hotel group owned by Indian entrepreneur Analjit Singh.
Linthwaite House is situated in the South Lake District, a 25 minutes' drive from Junction 36 of the M6 motorway.
Details: https://www.linthwaitehouse.com/
Details

Published: 07 June 2018
Hits: 2950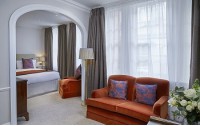 Dukes London has just completed a major multi-million-pound refurbishment.
Dukes London is a luxury five-star hotel located just off Piccadilly, in the heart of Mayfair.
The hotel has 90 bedrooms all of which have been renovated. 22 rooms form a new category of 'deluxe room'.
The newly-refurbished deluxe rooms are individually and sumptuously designed, although all the bedrooms are luxuriously finished, furnished and equipped.
Other changes at Dukes London include a new-look lobby, the new St James' Suite for events and Great British Restaurant, the hotel's all-day dining experience, headed up by Executive Chef Nigel Mendham.
The St James Suite is one of four meeting and events rooms at Dukes London. It is fully air-conditioned with wireless broadband Internet connection. It will seat up to 30 delegates for a boardroom meeting.
Dukes London nestles in a quiet courtyard in St. James's Place in Mayfair.
Details: https://www.dukeshotel.com/
Details

Published: 15 May 2018
Hits: 2831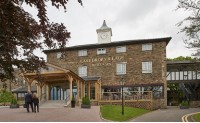 The Last Drop Village Hotel and Spa in Bolton has just completed its two-and-a-half year long, £3million refurbishment.
All 131 bedrooms and bathrooms have been refurbished.
The public spaces and outdoor bar have been upgraded. Leisure facilities have also been upgraded with new gym equipment and refreshed changing rooms.
Last Drop Village Hotel and Spa boasts among the best meeting and events facilities in the area with 11 meeting rooms and boardrooms plus extensive grounds for team building.
The meeting rooms will accommodate from 1-700 delegates. All have natural daylight and complimentary wi-fi throughout.
Last Drop Village and Spa is located on the edge of the West Pennine moors in Bolton overlooking the northern outskirts and skyscrapers of Greater Manchester to the far south. It has good access to the North West motorway links: M6, M65, M62, M60 & M61.
Details: http://www.lastdropvillage.co.uk/
Details

Published: 18 May 2018
Hits: 2883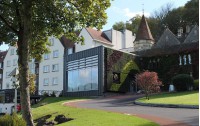 DoubleTree by Hilton, Cadbury House in Congresbury in Bristol has completed a £1.5 million upgrade of its bedrooms and suites.
72 bedrooms including its Junior Suites and Loft Suites have been totally refurbished plus several of the hotel's public areas.
The new bedroom décor highlights Bristol and Somerset's heritage in contemporary artwork as well as drawing inspiration from its local landmarks including the SS Great Britain, Clevedon Pier, Clifton Suspension Bridge and Avon Gorge.
In-room technology upgrades include new USB charging points on the plug sockets.
Other new developments at DoubleTree by Hilton, Cadbury House include a new state-of-the art reception area with floor-to-ceiling windows plus a new exterior 'living wall'.
DoubleTree by Hilton, Cadbury House is set in 20 acres of woodland with views overlooking the Bristol Channel and beyond into Wales.
A former 18th century manor house, DoubleTree by Hilton, Cadbury Housenow has 132 bedrooms, 11 meeting and event suites, a Conference Café, two Marco Pierre White restaurantsand free wi-fi.
Leisure facilities include a gym, swimming pool, sauna, Jacuzzi, steam room and spa.
Details: https://www.cadburyhotelbristol.co.uk/
Details

Published: 11 May 2018
Hits: 2784