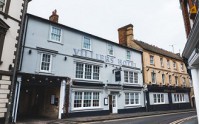 Villiers Hotel in Buckingham has just completed a refurbishment of all its meeting rooms.
Villiers Hotel now has nine spaces to accommodate up to 180 delegates.
Meeting rooms are self-contained with dedicated syndicate rooms, W/C's and breakout space.
Each room is equipped with a large flat screen television, state of the art furniture and with a convenient power supply for all users.
Villiers Hotel also operates a range of serviced offices located in the Old Town Hall immediately opposite the hotel.
The refurbished office space includes co-working rooms and a selection of private offices. They are available to rent on a short-term basis.
Villiers Hotel has 49 bedrooms and an AA rosette restaurant plus two car parks. It is housed in a Grade II-listed building in the centre of Buckingham.
Details: http://www.villiers-hotel.co.uk/
Details

Published: 17 January 2018
Hits: 2691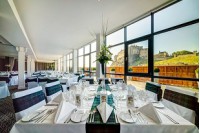 Apex Hotels Group is to invest £12million in refurbishment works across its four-star portfolio – with work on some properties already underway.
The announcement comes following the recent completion of a £1.5m refurbishment at Apex City of London Hotel which has included a new restaurant and spa.
Apex Temple Court Hotel – also in London – will continue its £6million refurbishment which includes a 20-bedroom extension.
Apex's planned programme of refurbishment will mean improvements to three of its Edinburgh Hotels – Grassmarket, Haymarket and Waterloo Place – as well as Apex City Quay Hotel & Spa in Dundee.
Work is already under way at Apex Grassmarket Hotel (picture). All 169 bedrooms are being transformed. In addition, the hotel's decking area, with views towards Edinburgh Castle, will also be updated, as well as the hotel's conference and events facilities.
Apex City Quay Hotel & Spa in Dundee is also undergoing a full refurbishment of its 151 bedrooms and suites. The public areas, along with gym and spa will also be revamped.
Apex Hotels operates ten four- star contemporary hotels in London, Edinburgh, Glasgow, Dundee and Bath.
Details: https://www.apexhotels.co.uk/
Details

Published: 22 December 2017
Hits: 2742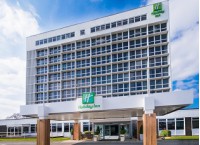 Holiday Inn Southampton has started its bedroom refurbishment programme - with completion scheduled for March 2018.
Holiday Inn Southampton has 133 bedrooms in total over ten floors. 41 bedrooms will have been totally refurbished by the end of December.
Holiday Inn Southampton opened a new Academy conference centre earlier this year.
The hotel now has six meeting and events spaces capable of accommodating up to 200 delegates.
Holiday Inn Southampton also features a Spirit Health Club with a swimming pool, gym, sauna and Jaccuzi.
Holiday Inn Southampton is located in the centre of Southampton with 180 parking spaces parking. It is five minutes from Southampton Central Station and overlooks the Port of Southampton, the cruise capital of the UK.
Details: http://www.hisouthamptonhotel.co.uk/
Details

Published: 11 December 2017
Hits: 2789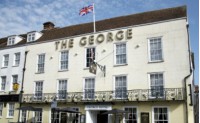 A £10million revamp and extension of the Grade II-listed George Hotel in Colchester is set to go ahead.
All existing 47 bedrooms at the George Hotel will be refurbished.
In addition, St Nicholas House across the road from the George Hotel will be converted into a 44-bedroom extension of the hotel.
Work is expected to start in the early New Year.
The George Hotel is a 500-year-old former coaching house. It is the oldest hotel set in the heart of Colchester, reputedly England's oldest city. It is around 100 yards from Colchester Castle.
A Roman road runs beneath the George Hotel. The refurbishment plan includes opening up the cellar exposing the remains of the Roman road for public viewing.
The George Hotel also features the Courtyard Brasserie and two events suites both with natural daylight and technically well-equipped. The Tudor Room will accommodate 50 delegates theatre style and leads out to the hotel courtyard. The County Suite will accommodate up to 70 delegates theatre style.
Details: http://www.thegeorgehotelcolchester.co.uk/
Details

Published: 12 December 2017
Hits: 2761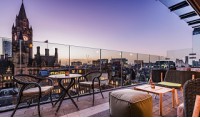 King Street Townhouse in the centre of Manchester has just completed a £40,000 refurbishment which has seen the conversion of its Tavern Restaurant into an "all-day dining destination" featuring a new-look layout, custom-made furniture and luxury soft furnishings.
King Street Townhouse opened in a 19th century Italian Renaissance building in the Upper King Street Conservation Area of central Manchester in December 2015.
The hotel has 40 bedrooms as well as a range meeting and events space featuring the sixth floor South Terrace and Lounge accommodating up to 150 guestsplus a rooftop spa with an infinity pool overlooking Manchester Town Hall.
King Street Townhouse is part of Eclectic Hotels which also operates Eleven Didsbury Park and Didsbury House Hotel in south Manchester plus the Great John Street Hotel which is also located in Manchester city centre.
Details: http://www.eclectichotels.co.uk/king-street-townhouse/
Details

Published: 06 December 2017
Hits: 2761