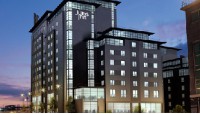 Jurys Inn Nottingham has just unveiled a £2.2million transformation of its 264 bedrooms and public spaces.
The new-look bedrooms at Jurys Inn Nottingham are now furnished with a DREAM bed by Jurys Inn, a flatscreen TV with Freeview, complimentary spa toiletries and free high-speed wi-fi.
The makeover at Jurys Inn Nottingham has included a stylish new-look for the restaurant and bar plus a new 'Off the Shelf' convenience in the lobby, stocked with snacks, drinks and travel necessities for the guest in a hurry.
A new fully-equipped fitness room has also opened.
Jurys Inn Nottingham has ten meeting and events rooms accommodating up to 100 delegates. Each one has natural daylight, air conditioning, a projector and screen along with free high-speed wi-fi.
Jurys Inn Nottingham is located in the heart of the city on Station Street, a five-minute walk from Nottingham station.
Details: <https://www.jurysinns.com/press_and_media>
Details

Published: 23 October 2017
Hits: 2673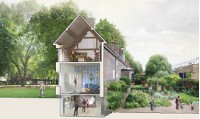 The Geffrye Museum in London will close early in the New Year ahead of a major two-year-long redevelopment.
The Geffrye Museum is set in Grade I-listed 18th century almshouses with gardens in London's Hoxton district. The museum explores the homes and home life from 1600 to the present day through a series of evocative period London living rooms and gardens.
Currently, in addition to the galleries, the Geffrye Museum has meeting and events spaces for up to 250 guests and is a popular venue for receptions, cocktail parties, press launches, talks and meetings.
Redevelopment plans entitled 'Unlocking the Geffrye' will creating 50 per cent more museum space with the addition of two floors. The development will increase the venue's events spaces as well as creating a new café.
The Geffrye Museum will also have a new entrance opposite Hoxton Station.
The Geffrye Museum closes on 7thJanuary 2018.
Details: https://www.geffrye-museum.org.uk/
Details

Published: 11 October 2017
Hits: 2622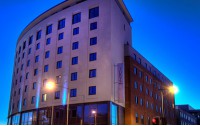 Jurys Inn Watford has just unveiled its brand new contemporary styled bedrooms.
£2.5 million has been invested into transforming all the bedrooms. Each bedroom at Jurys Inn Watford now includes a DREAM bed by Jurys Inn, a work area, complimentary wi-fi and a flat screen TV with Freeview.
The refurbishment at Jurys Inn Watford is part of an extensive £75 million investment in all Jurys Inns over the past five years.
Future plans at Jurys Inn Watford include the refurbishment of the bar, restaurant and reception which will begin over this summer
Jurys Inn Watford has eight fully equipped meeting and events rooms, accommodating between 15 and 100 delegates.
Jurys Inn Watford is centrally located in Clarendon Road and is easily accessible from all transport links. Watford Junction station is a seven minute walk from the hotel. London Euston station is an 18 minute journey away.
Details: https://www.jurysinns.com/hotels/london/watford
Details

Published: 30 July 2017
Hits: 2678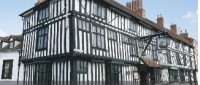 The Falcon Hotel in Stratford-upon-Avon will close from 22 December until the end of 2018.
The temporary closure is part of the Falcon Hotel's total refurbishment programme which started in April 2017.
The four-star Falcon Hotel dates back to the 16th century. It is situated in the heart of Stratford-on-Avon, a five minute walk from the Royal Shakespeare Theatre.
The new hotel will reopen as the Hotel Indigo Stratford-upon-Avon.
Details: http://www.sjhotels.co.uk/hotels/falcon/
Details

Published: 09 October 2017
Hits: 2612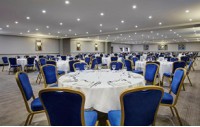 Jurys Inn Hinckley Island Hotel and Conference Venue in Leicestershire has just completed its £11million transformation. All elements of the hotel have been refurbished in the project.
The hotel's 362 bedrooms have been refurbished with a contemporary décor and equipped with the latest in-room technology.
Jurys Inn Hinckley Island Hotel and Conference Venue now includes 26 meeting and events suites that will accommodate up to 1,000 delegates as well as a purpose-built and self-contained Training Suite.
The ground floor London and Paris (pictured) Suites offer the largest event space. These are flexible rooms accommodating up to 650 delegates for a theatre style presentation including high spec lighting and the latest audio-visual facilities.
The two suites are supported by the Lakeside suite which can host 200 delegates and offers views of the hotel's lake and surrounding countryside.
An additional 26 meeting rooms have also been fully refurbished in the same new style with top-spec technology, adaptable furnishings along with white screens, adjustable air conditioning, black-out facilities, video-conferencing and uncontended wi-fi.
The Training Suite includes five training rooms, a board room and flexible breakout space.
Juvenate Health and Leisure Club includes a fully-equipped fitness suite with studio classes and a fitness team plus a pool and relaxation suite.
Jurys Inn Hinckley Island Hotel and Conference Venue now has a Marco Pierre White Steakhouse Bar and Grill, a new Piazza lounge and wine bar and a Costa coffee outlet.
Jurys Inn Hinckley Island Hotel and Conference Venue is centrally located, close to the M69 (J1), M1 (J21) and M6 (J2). It is 40 minutes from East Midlands and Birmingham airports and four miles from Nuneaton station for a 59-minute journey into central London.
Jurys Inn Hinckley Island Hotel and Conference Venue also has a licensed helipad and 600 complimentary parking spaces.
Details: https://www.jurysinns.com/hotels/hinckley-island/
Details

Published: 17 July 2017
Hits: 11785