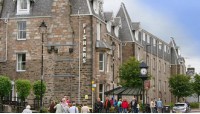 Fisher's Hotel in Pitlochry, Perthshire is to undergo a £2million renovation following a damaging New Years Day fire.
Fisher's Hotel, which dates back to 1830, will see an additional 30 bedrooms bringing to total number to 140 contemporary-styled new-look bedrooms.
Fisher's Hotel will also be opening a new 150-cover Castle Restaurant which will feature an indoor Zen garden with a glass roof spanning all floors of the hotel.
Refurbishment work is expected to be complete by the end of 2017.
Fisher's Hotel is located just off the main A9, 30 minutes north of Perth. Pitlochry rail station is connected to the rear gardens of the hotel and there is a regular service to Inverness, Edinburgh and Glasgow. There are also direct trains to London.
Details: http://www.fishershotelpitlochry.com/
Details

Published: 04 July 2017
Hits: 2877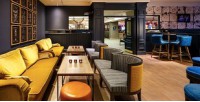 Mercure Inverness Hotel has just completed its major refurbishment.
The renovation of Mercure Inverness Hotel has included a transformation of all 121 bedrooms and public spaces including the hotel's new 33 Church Street Bar & Brasserie, the lounge, conservatory and reception areas.
The new design features traditional local tartan fabrics throughout the hotel as well as heritage artworks on the walls. There is a selection of Robert Burns poems at the front entrance of the hotel with the classic Burns Book in the bedrooms with mounted front covers and sections of the book on the walls.
Mercure Inverness Hotel has two fully equipped meeting rooms accommodating up to 200 guests and each fitted with the latest audio-visual equipment including complimentary wi-fi throughout.
Mercure Inverness Hotel is located in Church Street in Inverness city centre, overlooking the River Ness.
Details: http://www.jupiterhotels.co.uk/mercure-inverness-hotel-unveils-locally-inspired-contemporary-new-look.html
Details

Published: 26 June 2017
Hits: 2760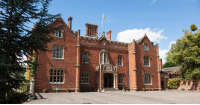 De Vere Latimer Estate with 205 bedrooms and formerly known as Latimer Place in Buckinghamshire, has just unveiled a £7million renovation.
The renovation has revealed many original features of the early 19th-century property. De Vere Latimer Estate now features a new 1838 restaurant and bar with an open kitchen. The hotel has also launched a De Vere's Burr & Co. coffee shop concept.
On the accommodation front, De Vere Latimer Estate has added 31 bedrooms. These have been created from space previously used for meetings and offices.
De Vere Latimer Estate includes 28 flexible spaces for conferences, meetings, training and teambuilding. The largest suite is the newly refurbished Cormorant Suite which will accommodate up to 240 guests.
Free, superfast wi-fi with a maximum bandwidth of 1GB is available throughout the hotel and up to 100m within the grounds.
De Vere Latimer Estate has an intriguing history. It was known as one of Britain's most secret homes and played an important part in military intelligence during World War II.
It is located around five miles from junction 18 of the M25. It is close to Heathrow and Luton Airports and the Metropolitan line into central London.
Details: https://www.phcompany.com/de-vere/latimer-estate/
Details

Published: 08 June 2017
Hits: 2708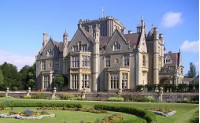 The 201-bedroom De Vere Tortworth Court in Wotton-under-Edge, Gloucestershire has just unveiled its six-month long, £5million refurbishment.
44 bedrooms in the main house have been totally revamped and 11 new bedrooms created as well as a couple of suites. They all have state-of-the-art bathrooms and superfast, free wi-fi.
The Victorian features of the Grade II-listed former mansion house have been retained with old-fashioned items such as original telephones, typewriters and wirelesses added to create the retro-feeling.
A new gym and treatment rooms have been added to the leisure and spa facilities at De Vere Tortworth Court.
'1853' restaurant will open later this summer in what was once the old church. The current library dining area is being converted into a specialist whisky bar.
De Vere Tortworth Court has ten meeting and events spaces with the main Westminster Suite divisible into four separate rooms.
De Vere Tortworth Court is set within a 30 acre estate. It was previously owned by Four Pillars Hotels. It is now one of 24 hotels within the De Vere portfolio, a group which also includes the city-centre based Principal Hotels.
Details: https://www.phcompany.com/de-vere/tortworth-court/
Details

Published: 22 June 2017
Hits: 2717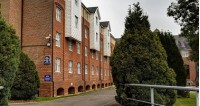 New owners of the Best Western Plus Reading Moat House have major redevelopment plans for the hotel in mind.
The Nine Group intend to spend "millions" on the refurbishment and development of the 129-bedroom Best Western Plus Reading Moat House hotel following its acquisition.
Best Western Plus Reading Moat House is housed in a 19th-century Grade II-listed former mill house in nine acres of grounds overlooking the River Loddon. It was converted into a hotel in the 1980's.
Best Western Plus Reading Moat House currently has a restaurant and bar, five meeting rooms and an adjoining pub.
Best Western Plus Reading Moat House is situated five miles from Reading city centre and around 40 miles from central London.
Details: http://www.bw-readingmoathouse.co.uk/
Details

Published: 24 May 2017
Hits: 2713