Industry news for the Hotel and Conference business
Welcome to our website for the savvy hotel and conference professionals. We provide business news, newsletters, extensive reference material, and free to enter competitions. Venuebooking offers insights to the industry from a new perspective to keep you in touch of the world out there.
Mercure Leeds Centre opens September

Indigo coming to Chester

Dalata plan new Manchester Hotel

Dalata plan new London Hotel

New Hotel opens in Glasgow

Four Pillars Hotels, predominantly an Oxford-based hotel group, have teamed up with PH Hotels and De Vere Venues, their associated hotel groups under shared ownership, to offer guests a greater selection of hotel options throughout the UK. Four Pillars Hotels have six hotels, four in Oxfordshire and two in Gloucestershire. Their Oxford portfolio includes: Oxford Abingdon Four Pillars Hotel with 66 bedrooms, Oxford Spires Four Pillars Hotel with 174 bedrooms, Oxford Thames Four Pillars Hotel with 84 bedrooms and Oxford Witney Four Pillars Hotel with 87 bedrooms. The two hotels in Gloucestershire are the Cotswold Water Park Four Pillars Hotel with 255 bedrooms and Tortworth Court Four Pillars Hotel with 189 bedrooms.
PH Hotels has 21 British hotels with destinations including London, York, Edinburgh, Glasgow and Cardiff whilst De Vere Venues has 25 locations across the UK.
Details:
www.four-pillars.co.uk
Details

Published: 02 June 2014
Hits: 2049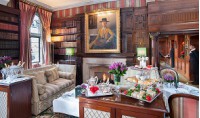 In honour of Father's Day, the Milestone Hotel in London is offering "Gentleman's Afternoon Tea" during the month of June with an array of savoury items and unlimited teas well as a variety of ales and whiskies – reports Hotels Magazine.
While the traditional afternoon tea menu at the Milestone offers tea, finger sandwiches, freshly baked scones with jam and clotted Devonshire cream, a selection of pastries and champagne, the "Gentleman's Afternoon Tea" menu takes a different approach. In addition to unlimited tea, guests will be offered ale and whisky, mini homemade pork pies, mini Cornish pasties, mini Scotch eggs, mini toads-in-the-hole, finger sandwiches, maple-cured bacon scones with truffle butter and traditional scones with clotted cream and preserves. A collection of sweets combine with liquors in cupcakes with whisky-cream-cheese frosting, a tart of brandy-soaked berries and chocolate-and-orange liqueur torte.
"Although we're calling it "Gentleman's Afternoon Tea," said Milestone General Manager Andrew Pike, "the jury is still out on who will be more pleased about this alternative menu — ladies or gentlemen."
The Milestone Hotel is a five-star luxury hotel with 44 deluxe guest rooms, 12 suites, and six long-stay apartments. It is located opposite Kensington Palace and is a member of the Red Carnation Hotels Collection
Details:
www.milestonehotel.com
Details

Published: 02 June 2014
Hits: 1242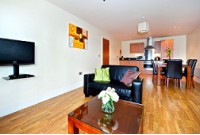 Serviced apartment operator Staycity has confirmed that it is planning to open a new 170-unit serviced apartments complex in Birmingham's Jewellery Quarter by May 2015. The £17million complex will consist of one and two bedroom apartments. They will be built on the site of the former Birmingham Museum of Science and Industry in Newhall Street. Staycity currently operate 82 apartments in the Arcadian Centre (pictured left), close to New Street Station in the centre of Birmingham.
Staycity now has more than 1,000 apartments across eight European cities including Dublin, Edinburgh and Manchester. 68 new studios and one bedroom apartments will be opening at Staycity Aparthotel Greenwich High Road in London at the end of July 2014.
Details:
www.staycity.com
Details

Published: 23 May 2014
Hits: 930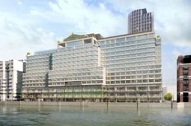 Mondrian London opens summer 2014 in the former Sea Containers building on the South Bank of the Thames; the first Mondrian property in Europe. Mondrian London will have 359 guest rooms and suites, many with outdoor space and river views. Facilities will include a riverside bar and brasserie with outside seating, a rooftop lounge and terrace, Mondrian London's signature Agua Spa with six treatment suites, relaxation space and a manicure and pedicure room plus a screening room with state-of-the-art audio visual equipment.
Mondrian London will have six conference and banqueting rooms comprising over 500 sq-mt of flexible space for meetings and events. All will be equipped with state-of-the-art audio plus video and telecommunications capabilities.
Mondrian London is a short walk from Tate Modern, Festival Hall, Borough Market and the National and Globe Theatres. It is minutes from Waterloo mainline and tube station.

Details: www.morganshotelgroup.com
Details

Published: 23 May 2014
Hits: 859
Conservation specialists have been appointed in Perth in Scotland to explore the possibility of redeveloping Perth City Hall into a five-star hotel. Plans have outlined a 32 bedroom hotel with a bar and a restaurant plus banqueting facilities for around 100 guests. The B-listed (Scotland's equivalent to Grade II listing) City Hall dates back to 1911 but closed around nine years ago and was facing the prospect of demolition. The hotel proposals will now go to a vote before the full council.
Details

Published: 23 May 2014
Hits: 800